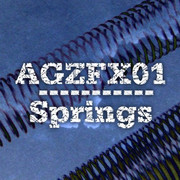 AGZFX has launched with the release of AGZFX01: Springs, a sample library featuring sounds of springs.
HD Quality Spring hits, scrapes, squeals, drones and rattles from two unique spring sources. The first is an old rusty spring of unknown origin with a very dark tone that squeals when you rub it wrong. The other is an Accutronics Spring Reverb tank with a much looser spring and very bright tone.

Slow them down, add a touch of reverb and delay, and you've got instant horror suspense. The samples in this pack were recorded at 24 bit, 96kHz with plenty of headroom and are edited but otherwise unprocessed.
AGZFX01: Springs features
149 sounds.
Mono WAV 24 bit, 96kHz format.
AGZFX01: Springs is available to purchase for $15 USD.
More information: Audio Geek Zine