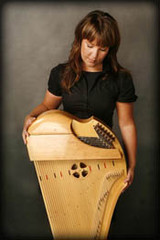 Matti Strahlendorff has released the Ajatar Kantele, a free sampled kantele instrument for Native Instruments Kontakt.
The Ajatar Kantele is a sample-based, digital recreation of a finnish zither instrument called the kantele. The instrument has a long history rooted in the finnish national epic, the Kalevala, and is the national instrument of Finland. The name Ajatar refers to a female woodland spirit in the stories of Kalevala.

The leading principle while sampling the Ajatar was authentic, natural recreation with maximum flexibility for experimentation. The samples come in multiple microphone positions (contact, close, room) to allow natural or user-added reverberation and feature round robin keyswitching to avoid sample repetition. The end result is a sampled instrument that is easy to play and hard to distinguish from a real performance.
The Ajatar Kantele is available as a free download for Kontakt. The instruments different microphone positions (contact, close, and room) can be downloaded separately.
More information: Ajatar Kantele