Akai Professional has announced some new products at the MusikMesse.
The MPK88 is a professional performance keyboard controller with MPC production controls.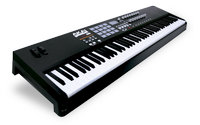 The MPK88 draws on the design of the popular MPK49, the first keyboard ever to features MPC pads. This first-of-its-kind keyboard is ideal for performance, starting with a premium, fully weighted, hammer-action keyboard, adding MPC pads, Q-Link controls, and a selection of MPC technologies. The MPK88 is born for the stage and is equally at home in the studio.
MPK88 features
88-key fully weighted, hammer-action keyboard with aftertouch for expressive melodic creativity.
MPC-pad section of 16 genuine MPC pads with pressure and velocity sensitivity.
MPC pads access four banks each for instant access to 48 samples.
Assignable Q-Link controller section for flexible control of most software parameters.
Eight Q-Link knobs, eight Q-Link faders, eight Q-Link buttons, three banks each.
Key Split enables control of two different sounds from the same keyboard.
Dedicated transport controls for tracking and editing.
MPC Note Repeat, MPC Swing, and arpeggiator aid in creative process.
MPC Full Level, MPC 16-Level, Tap Tempo, and Time Division assist with tempo and dynamics.
MIDI output over USB, bus powered, class compliant: plug and play with one USB cable.
Comes with Ableton Live Lite Akai Edition software.
Works with most MIDI recording, sequencing, and performance software.
The MPD18 is the most portable, easy-to-fit MPD for your setup.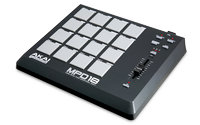 If all you need is a set of 16 high-quality MPC pads in a super-compact footprint that will fit into any music production setup, you'll want to check out the new MPD18. This USB-MIDI controller can work with virtually all software and hardware, and can be had for a song.
MPD18 features
MIDI controller for production and performance.
MPC pads: bank of 16, velocity and pressure-sensitive.
Three selectable pad banks for a total of 48 sounds accessible from the pads.
Two Q-Link assignable controllers: fader and button.
MIDI-over-USB or MIDI operation.
MPC 16-Level and Full Level.
USB powered or powered via optional AC adapter.
The MINIAK is a music production powerhouse, featuring virtual analog and FM synthesis, more than 600 presets, onboard sequencing, a built-in arpeggiator, onboard effects and a 40-band vocoder.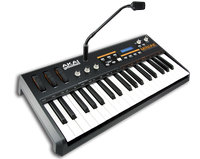 The MINIAK is the first synthesizer from Akai Professional. Developed in partnership with the world-renowned Alesis synthesis team, the MINIAK brings together the control of the Akai Pro MPD, MPK, and APC series with powerful DSP sound-generation technology. The MINIAK is a perfect synth for producers in the studio and live performers on stage because, while it is extremely compact and portable, it's a serious instrument for creating sounds for both performance and production.
MINIAK features
Eight voices, each with three oscillators.
Up to eight multi-timbral parts with stereo effects and 40-band vocoder.
Two multi-mode filters, three envelope generators, two LFOs, sample and hold, tracking.
generator.
Dynamic real-time and step sequencers, arpeggiator, and drum machine/rhythm.
sequencer.
Stereo bus effects including reverbs and delays.
24-bit 1/4″ balanced stereo analog outputs and inputs.
37-key synth-action keyboard with velocity sensitivity.
More than 600 preset sounds.
Sound banks: bass, lead, pad, string, brass, keys, comp, drum, SFX.
Pricing and availability of the MPK88, MPD18, and MINIAK are TBA.
Visit Akai Professional for more information.