Akai has launched version 3.0 of its VIP music software that enables you to control your entire VST instrument and FX library directly from any keyboard.
VIP allows you to switch patches from all your VST's in one place, instantly access pre-mapped plugin parameters for hands-on knob tweaking, customize preset loading from multiple VST's using set-lists, and much more.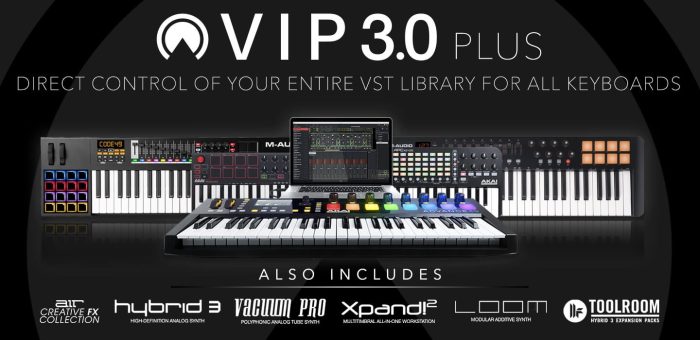 VIP extends the capabilities beyond what any DAW offers by empowering you to quickly create and play "multis." A multi allows you to combine up to 8 patches from 1 or more plugins, with the ability to layer, mix and pan these patches all at once.

VIP software users can also create set-lists that provide on-demand access to your customised instruments for stage performance and studio work. By simply pressing a single button on any Keyboard, you can adapt to song changes as the live performance progresses-without ever reaching for your computer. That's what you want!

VIP also brings you an intelligent patch browser that works across all your VST instruments to let you quickly find sounds based on instrument type, timbre, style or articulation, or simply explore patches you never knew you had!

You'll also love VIP's facilities for browsing, key zone splitting, layering of up to 8 instruments per VIP instance, expansive custom mapping capabilities, and support for any VSTi plugin. You can run as many instances of the Virtual Instrument Player as your computer allows.

VIP is ideal for live performance and a Standalone App with a built in Digital Mixer. It also runs as a VSTi, AU, or AAX plugin, allowing you access to VSTi's in virtually any DAW, such as Pro Tools, Logic Pro X and Ableton Live.
VIP 3.0 features
Plays virtually every VST-compatible plugin and effects unit.
Operates as a standalone virtual instrument and effects player or as a plugin within any AU, VST or AAX compatible DAW.
Organises user's plugin collection with intuitive browsing by plugin, artist collection, instrument type, timbre and more.
Includes an Effects Browser allowing users to browse effects by type and audition across multiple plugins with a single click.
Access, edit and mix up to 8 virtual instruments at one time in a Multi.
Expanded Multi mixer includes insert effects, send effects, bus tracks and a master output channel strip for total routing control.
Effects Stacks combine multiple effects into re-usable patches, accessible in the patch list for easy selection and auditioning.
New | VIPMS – The VIP Native Plugin Map Standard allows 3rd party virtual instrument and effect developers to produce their own plugin maps for enhanced VIP integration and opening their plugins to the superior workflow offered by VIP – Will support entire EastWest Creative cloud at launch.
New | MIDI Learn functionality seamlessly maps the controls of any VIP-compatible keyboard (knobs, encoders, faders, buttons) to VIP's parameters with an ever-growing library of MIDI controller mappings for AKAI and M-Audio controller keyboards included.
New | Pad Chord Progressions – Play factory or user defined chord progressions using a VIP-enabled keyboard controller's pads.
New | Key Control Modes: Play scales, harmonised chords or chord progressions from a VIP keyboard or MIDI keyboard.
VIP 3.0 is also available in Plus version, which includes a prebuilt multi library featuring popular songs, a 16 GB download of over 10,000 sounds from industry-leading developers at AIR Music Technology and Toolroom Records. This comprehensive collection of Instrument and FX plugins provides you with an instant palette of contemporary, sought-after sounds for both live performance and studio production a $1,000 value.
VIP 3.0 Standard and Plus are now available from Plugin Boutique at up to 40% off. Various VIP bundles are also available with discounts of up to 53% off.
More information: Plugin Boutique / Akai VIP 3.0