Akai Professional has announced the MPX16, an advanced sample player with onboard sound recording.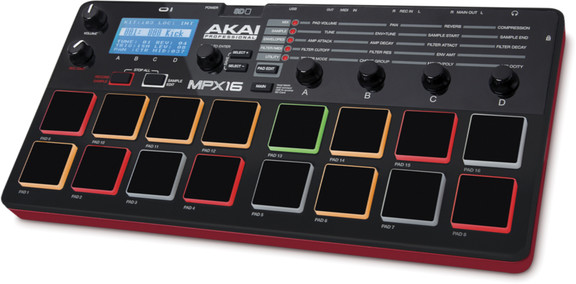 The portable MPX16 plays and records .WAV samples using SD cards for powerful, reliable performance in live and studio situations. Like the popular MPX8, samples are triggered internally from the highly responsive MPC-style pads or an external MIDI device via USB-MIDI and 3.5mm (1/4-inch) MIDI inputs. Also a feature-packed MIDI pad controller, the MPX16 is equally capable of launching clips or adding trigger pads to a producer's studio.

Samples are captured at CD-quality via dual 6.3mm (1/4-inch) inputs or the on-board stereo microphone and saved to an SD card. The user may assign audio clips to the pads and apply tuning, filters, envelopes and "choke" grouping for creative, dynamic performances. An LCD screen and illuminated trigger pads provide visual feedback during use, and the MPX16 may be powered from a USB port or the included power supply. Naturally, users may load existing sound files onto an SD card or use the MPX16 as an SD card reader for drag-and-drop convenience on a Mac or PC. A software tool for even easier sample management is included via download.
MPX16 features
Record and play back stereo .WAV samples using any SD card.
16 ultra-responsive, velocity sensitive backlit trigger pads.
Sample via 6.3mm (1/4-inch) inputs or internal mic.
MIDI In/Out easily integrates into your performance or studio setup.
Filter, tune, envelope and choke grouping on each pad.
CD quality sampling and playback.
Includes computer software editor for efficient loading and editing of samples.
Acts as an SD card reader for loading sounds over USB.
Powered by USB or the included power supply; SD card included.
The MPX16 will be available in Summer 2014, distributed worldwide with a $199.99 USD street price.
Akai Professional will unveil the MPX16 at Musikmesse, Hall 5.1, Booth B45, March 12-15 in Frankfurt, Germany.
More information: Akai Pro