Akai Professional has announced the introduction of its Advance Keyboard Series. Available in 25-, 49-, and 61-key sizes, the Advance 25, Advance 49, and Advance 61 provide unprecedented playability and advanced manipulation of any virtual instrument via an interactive, full-colour display complemented by performance friendly hardware controls.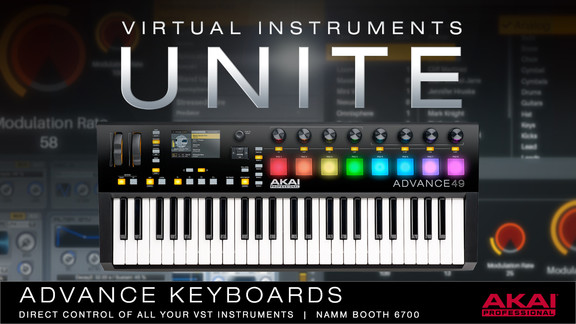 Designed to fuse the power of software instruments with the live playability of a keyboard workstation, the Advance Keyboard series transforms computer-based plugins into an entirely hands-on playing experience. The keyboard surface features an integrated highresolution full-colour 4.3-inch display, providing real-time control and feedback of any and all virtual instrument parameters. The screen instantly adapts itself to the selected plugin's controls, delivering immediate 1:1 access to the instrument and various editable functions. Better yet, the Advance Keyboard series works with any VSTi virtual instrument. Using the Advance Keyboard's custom designed Virtual Instrument Player (VIP) software application, your entire VSTi library can be controlled in one application. VIP can operate as a plugin inside any major digital audio workstation (DAW) or as a stand-alone application on both Mac and Windows operating systems.

Dedicated physical controls are thoughtfully included, with Akai Professional's hallmark RGB backlit, velocity- and pressure-sensitive pads integrated into each keyboard surface. Rubberised pitch and modulation wheels deliver player-preferred note manipulation with highly musical action. Large, continuously-variable endless knobs invite frequent use, letting the user make parameter adjustments with granular or dramatic effect. A custom semiweighted, velocity-sensitive keybed—another Akai Professional specialty—supports aftertouch, making it an elite keyboard for seasoned live performers and studio producers alike.

"The Advance Keyboard series represents a giant leap forward for keyboard players," says Dan Gill, Product Manager for Akai Professional. "Until now, software-based instruments leaned heavily on computer interaction, which caused creative and logistical bottlenecks, especially during live performances. We're combining the processing power of your computer, the flexibility of your virtual instrument collection, and the hands-on immediacy of a traditional keyboard workstation. The result is a powerful and inspiring user experience."

Included with each Advance Keyboard is the Virtual Instrument Player (VIP) application. VIP gives Advance Keyboard users access any virtual instrument in their collection with or without a DAW—a powerful way to play virtual instruments live or integrate them into a recording session. VIP software users can also create setlists that provide on-demand access to usercurated instruments for stage performance and studio work. With a single button press on an Advance Keyboard, the player can adapt to song changes as the live performance progresses—without ever reaching for the computer. Performers of all types will welcome VIP's facilities for hyper-fast instrument and patch browsing, key zone splitting, layering of up to 8 instruments per VIP instance, expansive custom mapping capabilities, and support for any VSTi plugin. Advance Keyboard users may run as many instances of the Virtual Instrument Player as their computer allows. VIP runs as a VSTi, AU, RTAS or AAX plugin, allowing you access to VSTi's in virtually any DAW, such as Pro Tool, Logic Pro X and Ableton Live.

Gill continues, "Keyboard players have been straddling two worlds for the better part of the decade. A standalone keyboard workstation was only as current as the sounds inside of it, and similarly, virtual instruments were only as good as the best controllers. The Advance Keyboard series delivers uninhibited access to any virtual instrument in your library without losing focus of the instrument in front of you."

Each Advance Keyboard ships with a 16GB download of over 10,000 sounds from industryleading developers at AIR Music Technology, SONiVOX, and Prime Loops. Purchased separately, this comprehensive collection of nine plugins is valued at over $1,000.00 USD and provides Advance Keyboard owners with an instant palette of contemporary and coveted sounds for live performance and studio production.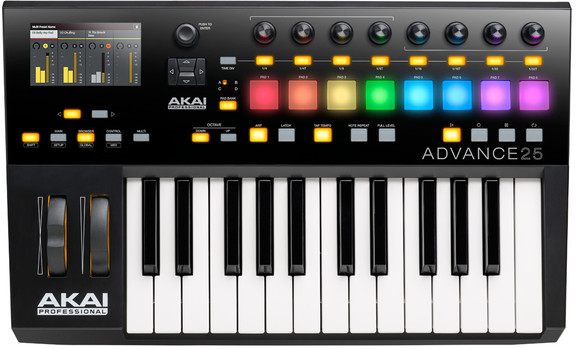 Advance Keyboard Series features
Keyboards for advanced virtual instrument performance.
Integrated 4.3-inch high-resolution full-colour screen with dedicated interface buttons.
Screen provides 1:1, real-time feedback of plugin parameters.
Available in 25-, 49-, and 61- key sizes.
Includes Virtual Instrument Player software for unprecedented virtual instrument preset management, control mapping and multi patch creation.
Premium, semi-weighted velocity-sensitive keybed with aftertouch.
8 large, endless and continuously variable control knobs.
8 velocity- and pressure-sensitive MPC-style pads with RGB illumination.
Dedicated pad bank, transport control, octave, and performance buttons.
Note repeat, time-division, pattern arpeggiator, and tap-tempo buttons.
Rubberised Pitch and Modulation wheels.
Expression pedal and footswitch inputs.
USB and 5-pin MIDI Input/Output for use with any MIDI capable software or hardware.
Also functions as a standalone controller.
Includes a 16GB download with more than 10,000 sounds from leading virtual instrument designers including AIR Music Technology, SONiVOX and Prime Loops.
Virtual Instrument Player Software features
Plays virtually every VSTi compatible plugin.
Operates as a standalone virtual instrument player for your computer.
Also operates as a plugin within any AU, VST, or AAX compatible DAW.
Organises your plugin collection with intuitive browsing by plugin, artist collection instrument type, timbre, and more.
Access, edit, and mix up to 8 virtual instruments at one time.
Setlist feature lets live performers switch between patches from any plugin instantly from the keyboard.
Extensive key zone splitting, custom mapping, and instrument mixing options.
Pre-mapped to hundreds of industry-leading virtual instruments.
Unlimited instances of VIP may be run in a DAW.
Advance 25, Advance 49, and Advance 61 will be available in early 2015 with an MSRP of £299.99 GBP, £389.99 GBP, and £469.99 GBP, respectively.
More information: Akai Pro / Advance Keyboard Series