Akai Professional has announced the MAX25 USB/MIDI/CV keyboard controller and MPX8, a standalone SD sample launcher with MPC pads.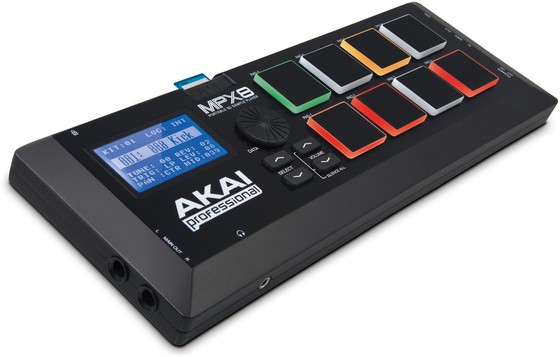 MPX8 is one of Akai Professional's most innovative pad instruments yet. Using a standard SD card, users can load virtually any sample onto MPX8 and then assign it to any of the unit's eight backlit velocity- and pressure-sensitive pads. MPX8 also comes with a large library of standard samples built in, which can be used for live performance in front of a crowd, on a radio show, or for in-studio production. Its bright blue backlit display and intuitive interface make for easy operation in any amount of light. A 1/8-inch headphone output, two balanced 1/4-inch outputs, and five-pin MIDI and USB MIDI inputs and outputs are onboard.

"With MPX8, we're giving musicians a quick and convenient way to have one-touch access to a virtually unlimited number of sounds, shots, stabs, and drops," said Dan Gill, Akai Professional Product Manager. MPX8 comes with a drag-and-drop sample editor for Mac® and PC for easy sample conversion. Users can also save sample sets together as kits for easy recall and even tune and add reverb to samples.
MPX8 features
Add sound samples via standard SD card (sold separately).
8 velocity-sensitive and pressure-sensitive pads.
Drag-and-drop sample editor for Mac and PC included.
Built-in library of popular sounds, samples, and bumps.
Tune, add reverb, save sample sets for easy recall.
USB MIDI plus standard MIDI inputs and outputs.
1/8" headphone output and balanced 1/4" outputs.
Akai Professional will also exhibit MAX25, a compact version of the innovative MAX49 USB/MIDI/CV keyboard controller that was released in 2012.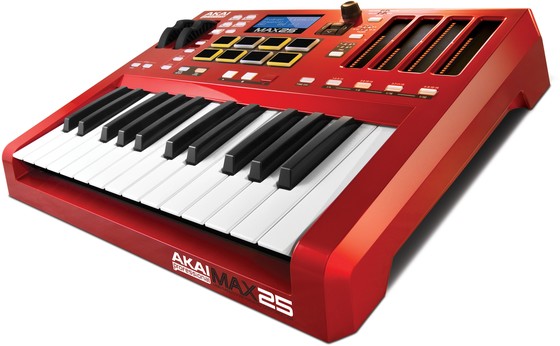 MAX25 has all of the same cutting-edge features as MAX49, including CV/Gate output, semi-weighted keys with aftertouch, a built-in step sequencer, expanded arpeggiator, and revolutionary LED touch faders for gradual or instant parameter value changes. The difference between MAX49 and MAX25 only lies in the number of onboard controls. Where MAX49 has 49 keys, 8 faders, and 12 pads, MAX25 has 25, 4, and 8, respectively. Like MAX49, MAX25 will come with AkaiConnect automatic-mapping software and Mackie Control® and HUI® modes for instant compatibility with many DAWs. "This is a controller that's made to be in front of a crowd," said Gill. "It's everything people love about MAX49 but in a compact package that will fit perfectly in front of a laptop on stage."
MAX25 features
25 semi-weighted keys with aftertouch, 4 LED touch faders.
Included AkaiConnect software automatically maps to VSTs.
8 MPC pads, MPC Note Repeat, and MPC Swing.
4 pad banks, 4 fader banks: 64 assignable pads, faders, and buttons.
Step sequencer and expanded arpeggiator.
CV & Gate outputs (1V/Oct), Mackie Control® and HUI® modes.
Akai Professional will unveil MPX8 and MAX25 at Booth 6700 at the 2013 NAMM show, January 24-27 in Anaheim, California.
More information: Akai Professional