Akai Professional has announced the introduction of its one-of-a-kind BT-500 audiophile belt-drive turntable.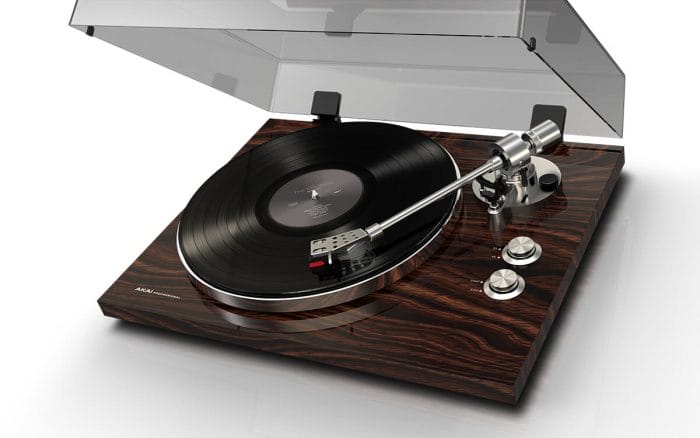 Responding to the rapidly growing demand for high-performance turntables in the resurgent vinyl market, the BT-500 offers the record enthusiast a unit with no-compromise audiophile performance and luxurious, elegant styling.

However, in addition to its superlative basic turntable performance, the BT-500 offers a unique combination of modern digital technology and convenience features that sets it apart from anything else: The BT-500 is a wireless streaming turntable, so it can send the turntable's signal to any Bluetooth speaker (not incl.). It has a built-in switchable phono pre-amp so it can be used with a traditional stereo or connected directly to powered speakers. The BT-500 also boasts the ability to convert analog records into digital files with its included on-board software and USB port for quick connection to any computer.

Of course, its basic turntable performance is beyond reproach: it has a quiet belt-drive system with a mechanically-isolated motor that eliminates any residual motor noise and vibration, a heavy die-cast aluminum platter that ensures an exemplary signal-to-noise ratio, a drive system with vanishingly low wow and flutter and a low-mass straight tonearm with precision damped cueing. The unique leveling bubble with adjustable feet ensures a perfectly level installation for optimum sound. A high-quality pre-mounted magnetic cartridge completes the package.
BT-500 features
Isolated DC motor and belt-drive system ensures silent operation.
Die-cast anti-resonance aluminum platter with heavy non-slip rubber mat.
Low-mass tonearm with precision damped cueing.
Built-in switchable phono pre-amp for use with powered speakers.
Streams music wirelessly to any Bluetooth speaker (speaker not inc'l).
Converts vinyl records into digital files via USB connection to computer.
Selectable sampling rate: 44.1kHz or 48kHz.
1/8" headphone jack; gold-plated RCA jacks for optimum signal transfer.
Unique leveling bubble and adjustable feet keeps unit perfectly level.
Heavy MDF base minimizes vibration to eliminate acoustic feedback.
Includes dual moving magnet cartridge and removable headshell.
2-speeds: 33 1/3 and 45 RPM.
Includes 45 RPM adapter, USB cable, audio cable and AC adapter.
Luxurious walnut finish with brushed aluminum controls.
"We're very excited about the BT-500 turntable and its absolutely unique combination of amazing analog performance and modern digital technology," said Dan Gill, Product Manager for Akai Professional. "This is a turntable like no other—a traditional audiophile's dream coupled with incredible cutting-edge digital capability and convenience, all in one unit."
The BT-500 will have a U.S. retail of $399.99 USD and be available in Q2 2016.
See the full line of Akai Professional equipment, including the BT-100 Bluetooth-streaming/digital conversion turntable (lower-priced companion to the BT-500), at Winter NAMM, Hall A Booth 6700.
More information: Akai Professional