Akai Professional has announced the MPC Touch, the newest and most advanced member of its legendary MPC product line.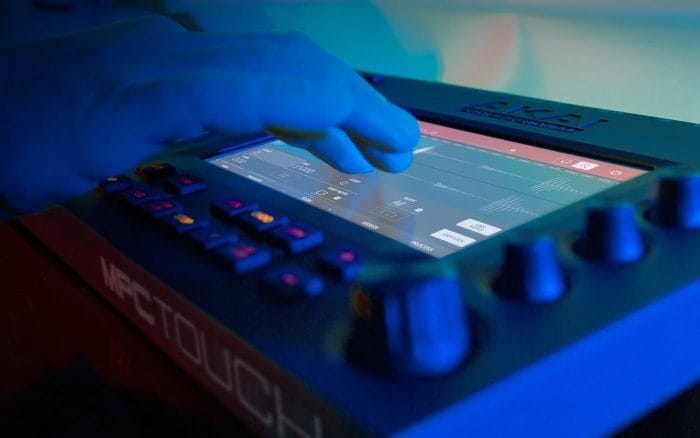 The touch-screen controller is the result of painstaking engineering development, detailed customer research and user feedback. The result is the most capable and user-friendly music production controller Akai Professional has developed to date.

The Touch introduces a new approach to music production with an ultra fast and super intuitive workflow, powered by a radiant 7″ colour multi-touch display. Literally grab and pinch waveforms, draw midi events, adjust envelopes, chop samples, add effects and precisely set your controls using your fingertips. Combined with the classic MPC feel, sound and award-winning pads, the Touch embodies the best elements of our past while taking music production gear into the future.

"Our new MPC Touch is an incredibly noteworthy event in the evolution of the Akai Professional product lineup. Years of research, customer feedback and cutting-edge engineering development has led directly to the most capable and innovative MPC we've ever offered," said Dan Gill, Product Manager for Akai Professional. "We're known for the excellence and music-making capability of our MPC family. It's the backbone of what we do. The MPC Touch breaks new ground in music production in terms of ease of use and on-board capability. We're excited and proud to offer it to modern musicians everywhere."
MPC Touch features
7″ colour multi-touch Display.
16 velocity-sensitive thick, fat MPC pads with RGB backlighting.
2-in/2-out audio interface.
Step Sequencer with touch interface.
XYFX control adds effects, adjusts sound dynamics in real time.
Phrase Looper, enables connection of any instrument to create loops.
Pad Mixer for setting levels, stereo panning and adding VST effects.
Sample Edit control, for trimming, chopping and processing your samples.
4 new, performance-ready touch-sensitive controls.
Data Encoder knob, for push-and-twist control of display parameters.
Includes MPC software with over 20 GB of sound content.
The MPC Touch will be available November 2015 with an MSRP of £499.99 GBP.
More information: Akai Professional / MPC Touch