Akai Professional has released MPC Software 2.3, a major software and firmware update that introduces a number of user requested features and functionality enhancements.
The update includes the addition of three powerful, versatile, and expressive built-in synthesizers by AIR Music Technology to the MPC standalone experience: TubeSynth, Bassline and Electric.
This is a landmark feature addition which elevates the MPC from a sampler to a true musical powerhouse. Also very significant is the addition of Autosampler and Arpeggiator. As a result, this update is highly recommended for all current MPC X, MPC Live and MPC Software 2 owners.
"MPC 2.3 advances the user experience in amazing new ways," said Dan Gill, Akai Professional Product Manager. "Users will especially love the new plugins created by AIR. They definitely open up a whole new world of creative possibilities."
TubeSynth
The TubeSynth emulates the sound of classic vintage analog poly-synths packaged with five integrated AIR effects. The instrument is created by AIR and is based on the same advanced analog modelling technology found in their highly acclaimed desktop plugin synth Vacuum Pro.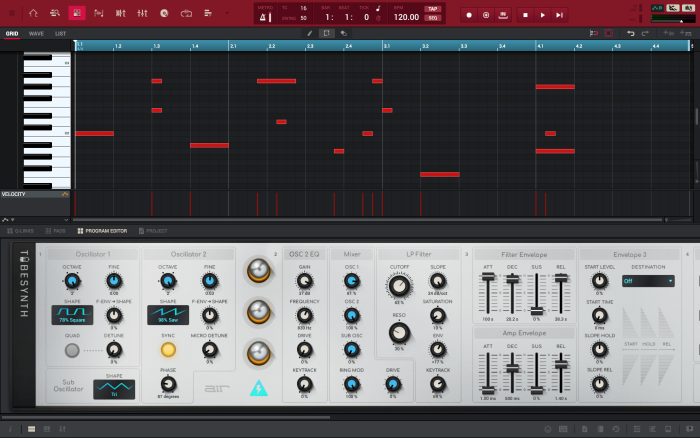 The layout has been carefully designed for easy tweak-ability via the MPC Q-Links. The TubeSynth comes packaged with a comprehensive factory library of cutting-edge presets including sumptuous pads, hard hitting plucks, thunderous basses and screaming lead sounds.
Flexible 3 Oscillator architecture features noise, saw, square, pulse and triangle waveforms.
Two different unison engines offer extended possibilities for thickening the timbre of any patch.
Users can customize the harmonic content of Oscillator 2 using the voice level EQ and Drive parameters.
Lowpass Filter with continuously variable slope with pre and post distortion.
Polyphonic Glide/Portamento for polyphonic pitch slides between chords.
Envelopes included for Filter, Amp with a third specialist ramp envelope that can be assigned to different modulation destinations.
Two LFO's have Sine, Square, Saw Up, Saw Down, Pump, Sample and Hold and Drift waveforms.
Explore a wide range of timbral possibilities with the Oscillator's Ring Modulation parameter.
AIR Chorus, Delay, Reverb, Compressor and Hype EQ.
Almost 300 patches provide a wide selection of Synth, Lead, Pluck, Pad, Bass, Organ, FX presets.
Oscillator 1 and 2 Env Shape parameter allows users to modulate the shape of each oscillator with the Filter Envelope.
Bassline
The AIR Bassline emulates the sound of classic mono synths with a contemporary twist. Including four integrated AIR effects as well as two built-in distortion algorithms.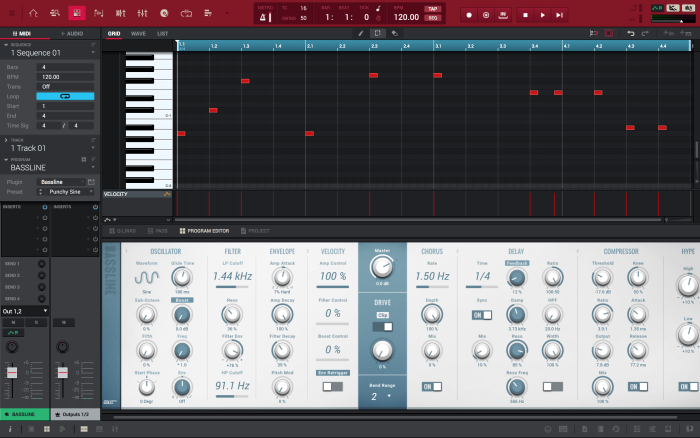 Flexible oscillator with continuously variable waveshape including octave saw, saw, square and sine waveforms.
Sub and fifth oscillators for thicker layered timbres.
Low-pass and high-pass filters.
Over 150 presets.
Electric
The AIR Electric emulates the sound of classic electric pianos.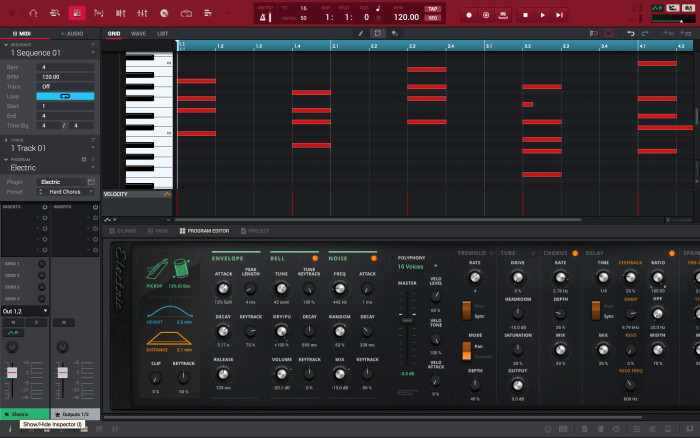 Dedicated Pickup, Envelope, Bell and Noise parameter sections provide a huge amount of flexibility to configure the timbre of the electric piano sound.
Five AIR effects Tremolo, Tube distortion, Chorus, Delay and Spring Reverb.
Over 80 presets.
In addition to the AIR plugins MPC 2.3 introduces many other enhancements, including:
Autosampler: Capture and convert any plugin preset or external instrument preset into a key group sampler patch. This is great for sampling patches from synths and drum machines.
Crossfade Looping: Realtime crossfade looping has now been added to sample playback.
Arpeggiator: A real time arpeggiator and phrase player.
MPC 2.3 is available as a new purchase for $199.99 USD for non-MPC product owners or as an upgrade from MPC Software 1 or MPC Essentials for $99.99 USD. This update is free for existing MPC Software 2 owners (2.0 – 2.2).
Note that you can still purchase the MPC 2.0 Special Edition Bundle at VST Buzz for only 99 EUR. The bundle includes a collection of high quality, sub-genre focused Expansion Packs designed to fuel your creativity.
More information: Akai Professional