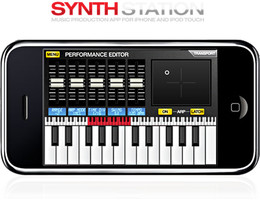 Akai Professional has released version 2.0 of SynthStation, a portable music production studio for mobile music creation.
Updated based upon user feedback, SynthStation v2.0 contains the most requested enhancements and capabilities from SynthStation enthusiasts everywhere and is now an even more powerful app for creating music on the go.

Featuring CoreMIDI support, real-time recording, a customizable metronome, the ability to preview sounds in the sounds page and numerous stability improvements and bug fixes, SynthStation v2.0 is ready to produce whether you're using it directly on your iPad, iPhone or iPod touch, or using it in combination with the powerful SynthStation25 portable controller.
Changes in SynthStation v2.0
CoreMIDI Support: SynthStation v2.0 works with any CoreMIDI compatible device, meaning you can use it on your iPad, iPhone or iPod touch as a synth module for your favorite controllers or integrate SynthStation v2.0 with your CoreMIDI compliant hardware and software sequencers.
Real-time Recording: Now you can record in real-time as you improvise and create tracks directly on your iPad, iPhone or iPod touch, or when using the versatile SynthStation25 portable controller.
Customizable Metronome: More than just a time-keeping click track, SynthStation v2.0's all new metronome is now fully customizable, allowing you to set the volume and use any sound you desire.
Sound-Preview Ribbon: Find the right sound faster with SynthStation v2.0's new sound-preview ribbon. This simple feature will streamline your portable music production and save you tons of time.
SynthStation for iOS is available to purchase for $1.99 USD.
More information: Akai Professional