Alesis has announced that its new V and VI series USB/MIDI keyboard controllers are now available.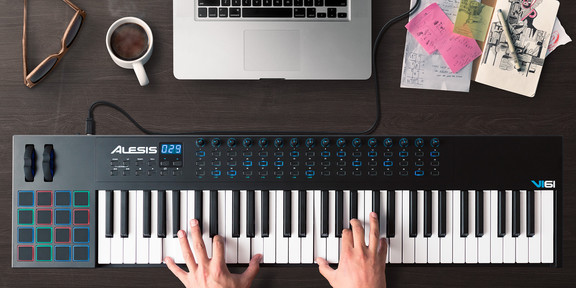 Alesis V Series are ideal for the hobbyist, software performer, or novice musician. Far from stripped down, each model includes several up-to-date premium features. Full-size, flat-front keys provide a confident, comfortable feel. Octave Up/Down buttons provide access to the entire note range, regardless of keyboard length. Pitch Bend and Modulation wheels—plus the sustain pedal input—lend an extra level of performance expression. The eight velocity-sensing drum/trigger pads are generously proportioned, and offer blue LED illumination. Each Alesis V Series model is also equipped with four assignable knobs and four assignable switches—also illuminated—that allow interactive software control.

Alesis VI Series models are equipped with full-size, flat-front keys. Semi-weighted for an authentic feel, these keys allow the performer to play with confidence—plus they respond to both velocity and aftertouch. Octave Up/Down buttons provide access to the entire note range, regardless of keyboard length. Pitch Bend and Modulation wheels lend an extra level of performance expression, and there is a sustain pedal input for piano-style control.

In keeping with their more professional-level performance capabilities, on the VI Series to the left of the keyboard—up front and of equal importance—are 16 highly-responsive drum/trigger pads equipped with color-keyed RGB LED illumination. Generously sized, these pads offer dynamic (velocity) sensitivity and a substantial, solid feel. These pads are ideal for playing drum sounds, firing samples, or triggering loops and grooves.

Both the V and VI Series come with comprehensive software packages that provide an important creative boost for the user. Both series includes the popular Ableton Live Lite, an interactive loop-based compositional and performance software program that makes effective use of the V and VI Series pads and controllers. Also included is the powerful Xpand!2 from Air Music Technology. Originally created as part of the Avid Pro Tools Creative Collection, Xpand!2 has been updated as a standalone software synthesizer capable of creating fantastic sounds, from natural instruments to intense electronic tones. An accompanying software editor opens the door to easily creating custom controller assignments. A single USB cable makes a convenient connection providing both power and two-way USB/MIDI link between the Alesis V and VI Series Controller and the user's Mac or PC computer.

"The V Series controllers provide a powerful competitive performance edge for the modern music maker," notes Alesis Director of Engineering, David Gill. "The emphasis on dynamic pads, illuminated controls, and full-size keys reflect our dedication to provide the most in-demand features to the entry and mid-level performer. Plus, the included software suite makes it uniquely easy to record, produce, and perform your music."

Gill added, "Offering even greater flexibility and performance, the VI Series reflects the changing nature of software—and music making in general—from linear song composition to loop- and percussion–based construction and performance. We are very excited to deliver a controller that can satisfy the modern studio producer, the live performer, and the software composer, all in the same instrument."
The controllers are now available for purchase at the following prices:
V25 $79.99 USD.
V49 $99.99 USD.
V61 $149.99 USD.
VI25 $169.99 USD.
VI49 $199.99 USD.
VI61 $249.99 USD.
More information: Alesis / V & VI Series