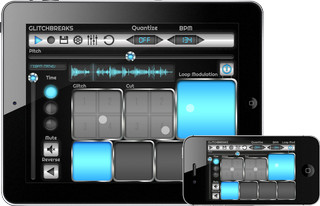 Alex Matheu has updated the Glitchbreaks music app for iOS to version 1.21.
Glitchbreaks is an iOS Universal manipulation tool for "Glitching" breakbeats. Glitchbreaks uses four audio channels setup like mute groups. You can quickly switch between them to construct new beats, or manipulate loop points to "Cut" or "Glitch" the breaks.
Changes in Glitchbreaks v1.21
Fixed Bug with MIDI crashing when turning it off.
Audiobus Filter port – Now you can apply effects to audio from other Audiobus-compatible apps!
[1.20] Added Full MIDI support, Virtual MIDI, MIDI Clock Sync In and Out, MIDI Learn.
[1.20] Made Waveform Touchable for Loop Modulation.
[1.20] Added Large Waveform view for iPad.
[1.20] Added Waveform to Cut Editor for iPad.
[1.20] Cut Offset now works from first cut.
[1.20] Bug Fixes.
Glitchbreaks is available to purchase at a limited time 40% discount.
More information: Glitchbreaks