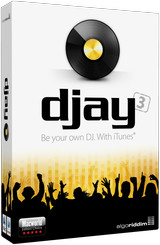 Algoriddim has released version 3.1.2 of djay, a DJ mixing application for Mac.
Just a quick note to let you know that we're happy to announce djay 3.1.2. We've been somewhat quiet recently because we've been working on some incredible things which you will hear more about soon. Nonetheless we wanted to share a number of improvements and fixes for djay 3 with you
.
Changes in djay v3.1.2
Improved playback and recording performance.
Improved graphics performance with Snow Leopard.
Fixed issues with recording files.
Fixed analyze library issue.
Fixed issue with installing custom MIDI Mappings.
Added support for Numark Mixtrack.
Reloop Digital Jockey IE2: fixed button light of right cue button.
The update is recommended for all users of djay 3.
More information: Algoriddim