zenAud.io has announced it is celebrating Spring with a 25% off sale on ALK2, the host application that offers a new paradigm in performing live with loops.
For the next two days you can even get 50% off in a flash sale.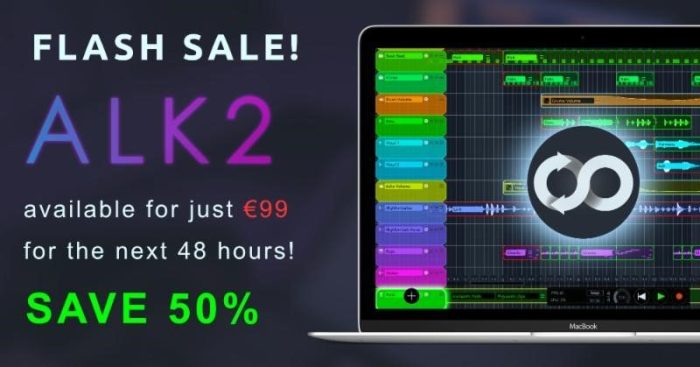 ALK2 has just been updated with several improvements that increase workflow, flexibility, ease of use and stability.

With ALK2, musicians can control what gets looped, and when — all within the familiar DAW timeline paradigm. Instead of an error-prone series of pedal presses, ALK2 empowers the musician to concentrate on their music, and let the software take care of the operational details.
ALK2 is on sale for 149 EUR (regular price is 199 EUR) until June 1st, 2018. Additionally, the company is running a flash sale for 48 hours only, offering ALK2 for 99 EUR today and tomorrow, May 14th and 15th.
ALK2 requires macOS Yosemite or higher.
More information: zenAud.io