Gábor Gyutai and Balázs Gyutai have launched Alpha Forever, a modular sound design environment for Windows.
Alpha Forever is a node based modular sound design tool which allows you to create custom instruments and effects in uncompromised quality as quickly and conveniently as possible.
Alpha Forever started as a fun project by the hungarian brothers Gábor Gyutai and Balázs Gyutai. After 3 years of development things started to get more serious, and in the year 2018 they finally released the first version under the name: Alpha Forever (reflecting the never ending development).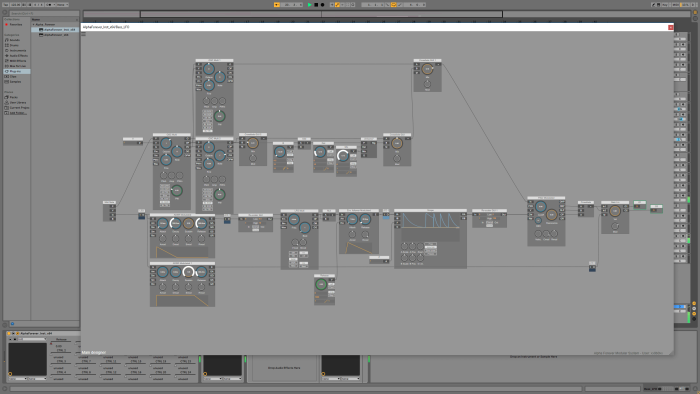 Alpha Forever features
Up to 32 voices of polyphony.
Over 100 presets (synths, sound FX, delay effects, modulations, dynamics, tools).
Every signal is calculated at audio rate, you can connect anything with anything.
No limitation on the amount of nodes used in a patch.
More than 80 nodes available already (math tools, MIDI inputs, LFOs, bandlimited oscillators, envelopes, delays etc.)
Designed for fast node editing, several nodes have their own interfaces.
MIDI and parameter automation.
Scalable plug-in window.
Intuitive, zoomable, fast, vector graphics interface.
Keyboard shortcuts.
Undo.
Copy / Paste patches into text editors / online text fields.
Constantly developed.
No in app purchases, no subscription plans.
Alpha Forever for Windows (64-bit VST) is available for 50 EUR. A fully functional free trial version is available for download (saving is disabled).
More information: Alpha Forever