Soundiron has announced the release of Alto Glockenspiel, a tuned percussion library for Kontakt, capturing a small 25-key alto glockenspiel.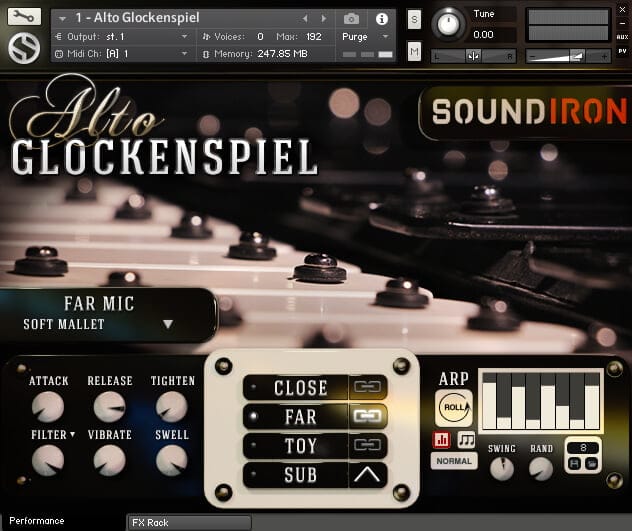 This instrument is typically used in student orchestras and has a natural range from A4 – A6, although we've artificially extended its playable key-range to span from A-1 to G8. The stretched lower octaves have a dark bell-like quality that becomes muddier and raspier the lower you go, providing an interesting contrast with the very crisp and bright high range.

We recorded the alto glockenspiel with 3 different articulation types (hard mallet, soft mallet, choked), as well as a small toy glockenspiel using a hard mallet. Each articulation has several dynamic layers and plenty of round-robin variation to create a very dynamic and naturally playable virtual instrument. The Alto Glockenspiel was captured at a very close, dry stereo position and also a far, wide position in a large cathedral. The Toy Glockenspiel was recorded close and dry in wide stereo.

These distinct instrument sets can be independently loaded and controlled separately, providing you with very distinct tonal and atmospheric flavors to layer and shape. You can use our intuitive UI controls to customize the sound to your needs, with a variety of options including swell, attack, release, tightness, tuning, vibrato, articulation selection, an optional sub-synth waveform underlay module for tonal reinforcement and a complex step-sequencing arpeggiator and auto-roll system.
Alto Glockenspiel features
2.45 GB library including 1,772 samples and 10 nki presets with a custom user interface for the full version of Kontakt 5.5 and later.
25-Key Alto Glockenspiel with 3 articulations.
Independent Close and Far microphone positions.
Sweeping glisses.
Toy Glockenspiel.
4 Custom FX Presets.
63 unique ambient pads, leads and atmospheres.
The Alto Glockenspiel is available for purchase for the introductory price of $19 USD (regular $29 USD).
More information: Soundiron / Alto Glockenspiel