Alto Professional has announced its new MixPack 10 portable high-power PA system.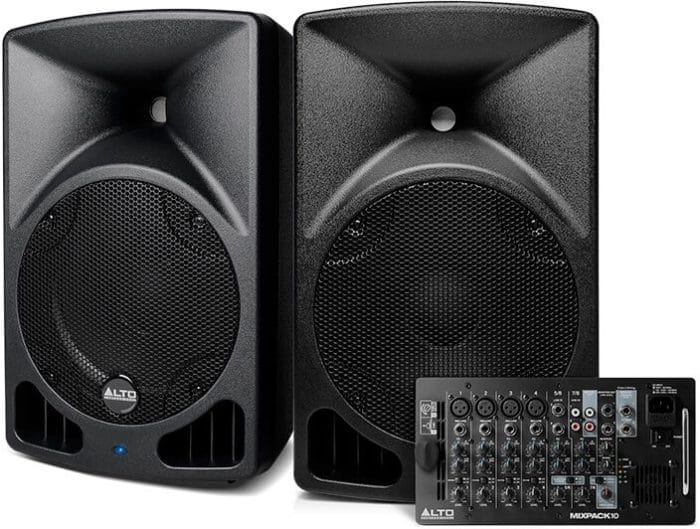 Recognizing a crucial need in the professional sound market for a portable PA system with exceptionally high performance and utility, the Alto Professional MixPack 10 is the result of a fresh design approach that directly addresses that demand.

Performers and presenters need a high-performance PA system with impressive output power, rugged speakers with wide-area sound coverage capability and comprehensive input/mixing capability so they can accommodate a good-sized venue. However, these requirements are usually accompanied by the need for portability and to keep expenditure on equipment to a minimum.

Alto Professional presents the Alto MixPack 10 as the ideal answer to these conflicting requirements. MixPack 10 is a truly high-performance portable sound system with the power output, acoustic firepower and the input/mixing flexibility to handle virtually any situation.

The power is impressive: 400 high-output watts driving full-sized speakers with potent 10-inch woofers and 1-inch high-frequency compression drivers. The speakers are not compromised units with small 6 ½-inch or 8-inch speakers. MixPack 10 uses full-sized speakers with the rugged capability to handle the most demanding situations.

There is an 8-channel powered mixer with EQ and multiple inputs so users can take command of a good-sized group and make it sound exactly the way they want.
Speaker cables are included and they stow conveniently inside for travel.

"Alto Professional is well-established as one of the world's leading professional performance equipment/sound reinforcement companies," said Dustin Plumb, Product Manager for Alto Professional. "Our new MixPack 10 portable PA system perfectly anticipates the need for great sound and amazing value, in a convenient, easily-transportable unit. We're very excited."
MixPack 10 features
High performance all-in-one portable sound system for any event.
400-watt peak power output.
Removable 8-channel powered mixer conveniently stows for transport.
(2) Alto Professional loudspeakers with 10-inch woofers and 1-inch HF compression drivers.
Integrated storage compartment for cables and other accessories.
4 XLR + ¼-inch mic/line inputs.
2 stereo line input channels (1/4-inch and RCA).
2-band EQ per channel.
Switchable digital reverb and phantom power on channels 1-4.
Separate EQ contour modes for speech and music playback applications.
1/4-inch speaker outputs (cables included).
1/4-inch line level monitor outputs for adding additional powered speakers.
The MixPack 10 will be available in December 2015 at Alto Professional dealers, priced at $399 USD.
More information: Alto Professional / MixPack 10