Alto Professional has announced the introduction of its new Truesonic TS2 family of powered professional loudspeakers.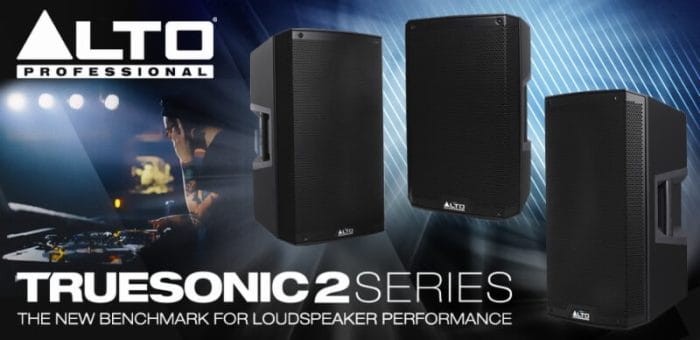 Recognising a crucial need in the professional sound market for moderately-priced powered loudspeakers with exceptionally high performance and utility, the Alto Professional TS2 series is the result of a clean-sheet design approach that directly addresses that demand.

The result is a line that strikes an ideal balance between no-compromise acoustic performance, the complete array of features that users demand and outstanding ergonomics and utility—all coupled
with a stunning new industrial design.

The TS2 family builds upon the documented success and wide acceptance of Alto Professional's current TS1 series. The current Truesonics established a benchmark for clarity, high output, flexible I/O options and value that has made them the worldwide standard of comparison.

The new TS2's significantly eclipse that level of achievement.

The range is comprised of three models, the TS210, TS212 and TS215. The amplifiers in all three are rated at 550 watts continuous, 1100 watts peak—a significant increase over the previous line. This new higher power capability ensures greater output for use in larger spaces, with increased clarity, since the amplifiers have significantly greater headroom and won't distort the way less powerful units will.

The all-new industrial design is intended to be more than just beautiful: The TS212 and TS215 cabinets have five integrated handles and the TS210 has three, making them easy to pick up in either
horizontal or vertical orientation. Each model also employs professional-grade M10 rigging/suspension points. The tough, durable cabinets have excellent acoustic properties, while their light weight makes them easy to transport.

"Alto Professional is well-established as one of the world's leading professional sound reinforcement companies," said Dustin Plumb, Product Manager for Alto Professional. "Our new TS2 series of powered loudspeakers is going to completely redefine the expectations of what is possible from a performance, utility and appearance standpoint in this category. We're very excited."
Truesonic TS2 features
TS210: 10-inch LF driver, 2.0-inch high-temperature voice coil.
TS212: 12-inch LF driver, 2.5-inch high-temperature voice coil.
TS215: 15-inch LF driver, 2.5-inch high-temperature voice coil.
1-inch neodymium HF driver with precision waveguide.
550W continuous, 1100W peak Class D power.
Bi-amplified design with precision active crossover and EQ.
Integrated 2-channel mixer with dual XLR 1/4-inch combo mic/line inputs and independent level controls.
XLR Link output.
Ground-Lift switch.
Contour switch for increased EQ control.
Electronic clip, thermal and transducer overdrive protection.
Compact, lightweight, trapezoidal cabinet design for easy transport and installation.
Angled rear panel for wedge monitor applications.
Stand and pole-mountable with integral M10 suspension points.
Designed and tuned in the USA.
The TS2 series will be available for MSRP £209.99 GBP (TS210), £229.99 GBP (TS212), and £249.99 GBP (TS215).
More information: Alto Professional