André Michelle from aM laboratory has created FL909, a TR-909 type drumcomputer in Flash.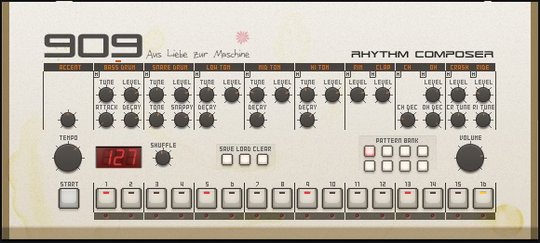 André writes:
FL909 attempts to simulate the original sound of the Roland TR-909. This drumcomputer hits the market 1984 and was a long time the state of art in house and techno productions. Shift-Click the Step-buttons for accent triggers. Shift-Click-Move knobs for smoother resolution. Press Save to store a snapshot of the current settings to a flash cookie. Restore snapshot by pressing Load. Clear to delete all patterns and reset all knobs. Drag and drop a pattern button (invisible) to copy a pattern to a new location.
The source code is available as well.
Link via Analog Industries