Amazing Machines has released AM104 CV Mixer, a new Reaktor Blocks device for Native Instruments Reaktor 6.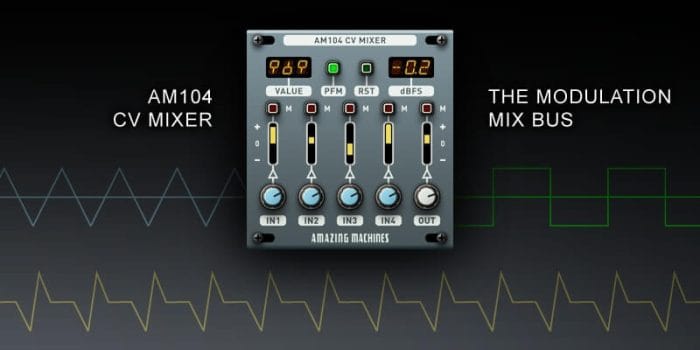 AM104 is an 8 Channel CV Mixer, optimized for use in conjunction with a DC Coupled Audio Interface to convert Reaktor Blocks Signals into Analog Control Voltages, allowing the interaction of Reaktor Blocks Modules with Hardware Synths and Modular Systems.

The dBFS Peak Display allows for precise adjustment of the Output Levels, while the builtin Output Clipper keeps your DA Converters protected from Excessive Levels.
AM104 CV Mixer features
1 Reaktor Block.
Dedicated Attenuverters for Inputs 1, 2, 3 and 4.
Dedicated Attenuverter for the Mixer Output.
Mute Switch for Inputs 1, 2, 3 and 4.
Mute Switch for the Mixer Output.
Selectable Pre and Post-Fader Metering for Inputs 1, 2, 3 and 4.
Inputs 5, 6, 7 and 8 are Unit Gain Inputs, they can be attenuated using a FREE AM103 Expander module..
dBFS Peak Display with Reset Switch.
Builtin Output Clipper.
AM104 CV Mixer for Reaktor 6.0.1 or higher (full version) is available for purchase for $9 USD.
More information: Amazing Machines / AM104 CV Mixer