Ampify (previously Bloccs) has announced the launch of a new electronic music app for iOS.
Groovebox is a free music studio app from the creators of Launchpad. With inspiring synths and drum machines the app allows you to make beats and melodies, and play with world-class instruments.
You can expand your own collection with more sounds and instruments available in the store.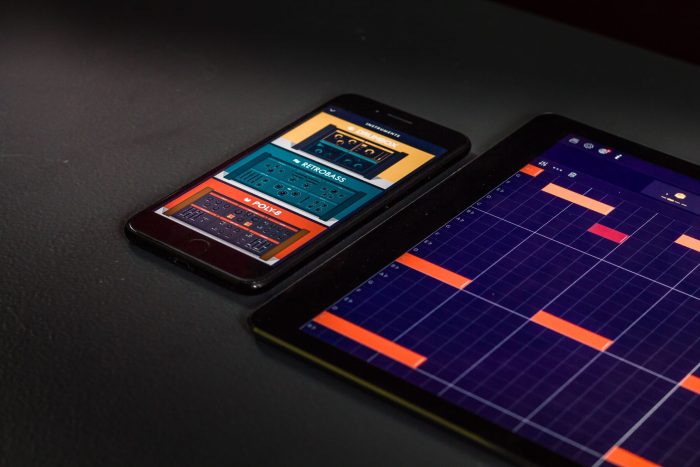 A Beats & Synth Music Studio
Play with touchable instruments to quickly create your own beats and melodies, or draw in notes. Need inspiration? Groovebox has hundreds of patterns and sounds to get you started. Two powerful synthesisers, designed in partnership with Novation, deliver deep retro basslines and analogue harmonic melodies. The modern drum machine, with expanding drumkit library, will turn Groovebox into your go-to beat production studio.

Synths Designed in Partnership with Novation
Designed in partnership with legendary synth pioneers Novation, Groovebox packs a world-class sound. Each instrument uses a new powerful synth engine capable of recreating classic warm analogue sounds and rich modern harmonics

Easy to start, Deep Enough to Master
Groovebox is designed to kick-start ideas, but it has serious features for artists and producers too. The advanced synth parameters* let you sculpt your own sounds. Included iPad mixer, note sequencer, key and scale modes let you control your sound. Export your sounds easily to a laptop to produce further. Sync to other apps or a laptop with Ableton Link. Connect using Audiobus, Inter-App Audio and even Export to Ableton Live seamlessly.

Ampify x Novation
We are Ampify, a unique innovative team formed from Novation, world-renowned music instrument pioneers. We're responsible for some of the most popular music creation and remixing apps on Apple's App Store. Launchpad for iOS has nearly 7 million downloads, and Blocs Wave for iOS won a number of prestigious awards. Our team, originally called Blocs, is now known as Ampify.
Groovebox features
Three powerful instruments – Drumbox, Retrobass and Poly-8.
Discover and build ideas – Quickly explore sounds with hundreds of melody and rhythm patterns.
Play touchable instruments – Create your own melodies and beats.
Build beats – Play drum pads or keys, sequence notes or use patterns.
Sound innovation – Synths developed in partnership with legendary Novation.
Expand your sounds – Regular, fresh-content drumpacks, presets and patterns (In-App Purchase).
Production-ready sounds – Crafted by world-class sound designers and artists.
Extendable Instruments – Expose more tweakable synth controls (In-App Purchase).
Sequence your music – Draw notes and build patterns instead of playing them.
Express your sounds – Edit the velocity within your patterns..
Stay in time and key – Choose from any tempo, key or musical scale.
Mix your music – 8-track mixer on iPad. Instrument focus mixer on iPhone.
Share your music – Easily create a mix of your music to share with others.
Groovebox for iOS is free to download (with In-App Purchase Pro-Features).
All instruments can be expanded to show more controls for deeper editing at $4.99 USD/£4.99 GBP/5.49 EUR. Each instrument also has a soundpack store.
Soundpacks are either Drumpacks (with samples & patterns), or Presetpacks (with presets & patterns) costing $1.99 USD/£1.99 GBP/2.29 EUR each. More free soundpacks will also be released in the future.