Ample Sound has announced the release of Ample China Pipa, the first product of the Traditional Chinese Instrument series. It is also the first instrument that uses the Ample Sound Engine 3.0.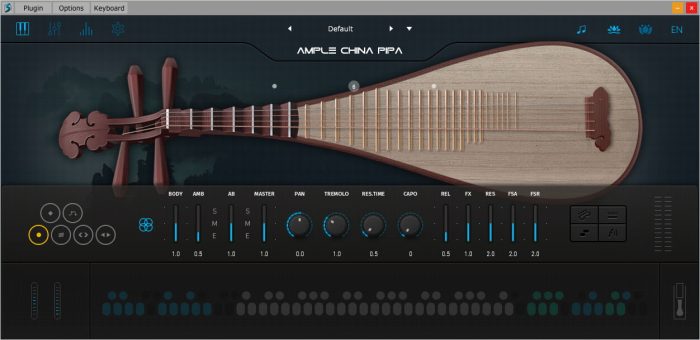 The engine offers improved performance, a new UI design with GPU acceleration, new FX DSP system, 2-line compressor, 6-tap echo, IR reverb, multiple capo logics, a new Start + ADSR envelope system and a new preset manager. More new features will be added in Guitars and Basses.
Ample China Pipa is composed of two sample libraries: Master (traditional Pipa timbre) and Expert (modern style). The recording used AB and MS stereo techniques, with four microphones. The software is encrypted with the iLok Anti-Piracy system.
Ample China Pipa features
2 Pipa libraries: Master and Expert. Total size is 7.25 GB.
Ample China Pipa is recorded with two stereo techniques: MS and AB, with four microphones. Users can adjust the volume of different microphones to get more variety of sound.
7 articulations: Sustain, Natural Harmonic, Tremolo (Tremolo, Rolling tremolo and Shaking tremolo), Full Bend, Legato Slide, Hammer-On & Pull-Off & Strum, and legato of flexible length & pitch, with polyphonic support.
Various Pipa FX samples.
Various Tremolo (Tremolo, Rolling Tremolo, Shaking Tremolo) Legato and Slide Tremolo features.
The recorded samples of tremolo have a long fade-in time, which can be divided into 90 different start points. They can be controlled by velocity, easily adapting to the need of different situations and styles.
Tremolo note can loop itself automatically, when the sample reaches to the end.
Tremolo Switch and Sustain Switch can make switch between articulations smooth. It is also possible to produce a realistic tail of tremolo with a fading tremolo release.
Advanced Bend, the tone of the bend notes can be changed by a Physical Modeling system.
Legato Smoother: legato of flexible length & pitch, with polyphonic support.
Resonance is an indispensable part of the expressiveness and realism of an acoustic instrument. Ample China Pipa can control the resonance time and volume, simulate more realistic resonance.
In real performance, a lot of playing noises are generated. Virtual instrument would sound unnatural without those noises. Ample China Pipa can not only generate rich Fret Noise automatically, but also simulate the subtle sound of the nails touching the string.
Ample China Pipa is available for Windows and Mac (VST/VST3/AU/AAX/Standalone). The plugin is on sale at an introductory 20% discount, priced at $135 USD until November 5th (regular $169 USD).
More information: Ample Sound