AMS Neve has announced a small format console with a large format sound based on the iconic 80-series console range. The versatile Neve 8424 majors on connectivity, giving users complete and fast control of their sessions without compromising on sound quality.
The 8424 console is designed to fit the needs of the modern hybrid studio where the speed of in-the-box workflow is enhanced with the ultimate sound quality of analogue outboard gear. Designed to be straightforward and accessible to all, this versatile and powerful desk provides a centralised platform with unparalleled connectivity, facilitating an ergonomic link between the linear analogue processing world of outboard gear, analogue synths and instruments, to the digital world of DAW workflow, software plugins and session recall.  

Capitalising on Neve's sixty years of technical heritage and highly revered analogue circuit design, the British-designed 8424 fits perfectly into many different applications. Whether you're a music producer or an artist with your own project studio, the owner of a small professional audio facility or the person in charge of an educational facility, this compact, budget-conscious desk delivers everything you need to record, mix, monitor and master music quickly, marrying Neve's revered sonic excellence with the speed and flexibility for todays connected workflows.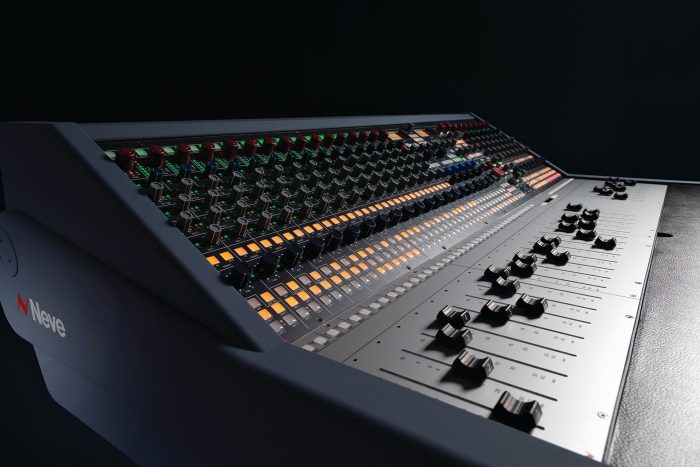 Neve 8424 features
Two Inputs Per Channel – Seamlessly switch from Mix to Record Inputs at the push of a button.
Third channel strip Input for dual-layer use.
Mix up to 48 Mono Signals at once.
Marinair® Transformers on Mix, AFL, CUE bus for true Neve voltage mixing.
80 – series Neve® sound in a compact frame.
Large format console Centre Section. Multiple speaker sets, dual Cue system and three-way talkback system.
Internal Snapshot system to Save/Load multiple all console settings across multiple sessions.
500 series slots for internal expansion options .
1073® preamps and DI inputs with Smart Routing for recording in the live or Control room.
In-Line Console capability.
25-way D-Type and Balanced Jack Inputs on rear and on front for a combination of simple and professional I/O Connection.
The 8424 is designed to connect to and utilise all of your instruments and outboard equipment, becoming the centrepiece of your studio.
The Neve 8424 console is shipping now, priced $24,950 USD / £21,540 GBP incl. VAT.
More information: AMS Neve