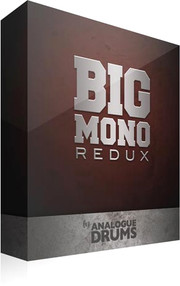 Analogue Drums has announced Big Mono Redux, a drum sample library.
After numerous requests from users of Big Mono, we revisited the original recording session from 2003!

We've come up with a new drum library with the same sweet sound as the original Big Mono, but now with loads of options for sonic control.

Round-robins, controllable mic layers, adjustable sensitivity and even panning controls are provided to fit the kit into your track. With the same heritage as the original Big Mono, it's a vintage Ludwig kit, tracked through killer mics and a '70s Neve directly to 2″ tape.
Big Mono Redux features
4 Kontakt instrument files for stereo/multi-out, Keyboard & V-Drum mappings.
1,234 sample sound files in unencrypted 24bit, 44.1khz WAV format (814MB unzipped).
Multi-sampling: each kit component contains up to 8 velocity layers for expressive detail and dynamics.
Mic layers: 5x individually controllable microphone perspectives: Coles 4038 in Decca front-of-kit position, Coles 4038 Decca – overhead; Neumann U87 Decca – side, Close mics, and snare-bottom.
Round-robin: natural performance thanks to round-robin hits.
Layouts: Keyboard and eKit/V-Drum mapping layouts provided. The keyboard layout is General MIDI (GM) compatible.
Output routing: stereo and multi-channel output versions provided.
Kontakt instrument interface: with volume, mic and pan controls.
Sensitivity control: increase the sensitivity of the kit for more intricate and subtle performances or leave it set to full dynamic range for heavier tracks.
Presets: for quickly changing sounds.
Trigger maps: for sound replacement – kick, snare, rack tom, floor tom – each with separated mic layers.
The Big Mono Redux sample library is available for Kontakt (full version v3+ required), and mappings for Slate Digital Trigger are also provided. It can be purchased and downloaded directly from the Analogue Drums website for $9.95 USD.
More information: Analogue Drums