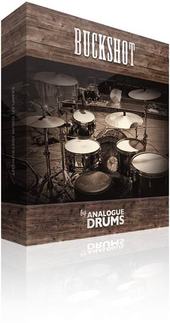 Analogue Drums has released Buckshot, a drumkit sample library for Native Instruments Kontakt and EXS24.
The Buck stops here. A modern take on a vintage kit with plenty of punch to cut through and enough tone to sit right in a rock track.

The kit is a vintage 1970s Gretsch Stop-Sign Maple with Zildjian and Sabian cymbals. The kit was tracked in a big old wooden theatre and dialing in the room sound can go from tight to espansive. As usual we've used nothing but the finest gear to capture the kit including classic Neumann mics, vintage Neve 1064 preamps. The tracks were then processed through vintage DBX 160 "VU" compressors for added grit and girth.
Buckshot features
Multi-sampling: each key contains 24 velocity layers for expressive detail. Hihats are extensively sampled for convincing realism with 6 articulations (tight, closed, loose, semi-open, open, pedaled).
Mic layers: 3x separately controllable layers for close mics, overheads and room mics.
Layouts: General MIDI (GM) and Extended Mapping (EX) layouts provided.
Kontakt instrument interface*: with volume and pan controls for individual drums and room mics. Instant snare-swapping button.
Sensitivity control*: increase the sensitivity of the kit for more subtle performances or leave it set to full dynamic range for rock and heavier tracks.
Presets (only available when using Kontakt): for quickly changing sounds.
Buckshot is available to purchase for $24.95 USD.
More information: Analogue Drums