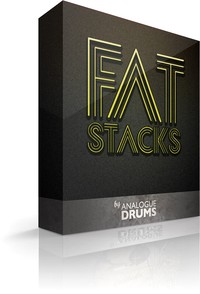 Analogue Drums has announced the release of Fat Stacks, a new sampled drum library for Native Instruments Kontakt.
Fat Stacks is a natural sounding vintage club kit. With small drums for a big sound, this kit can set the tone for a range of styles that need an organic, lively beat. We think it sounds good for R'n'B, hiphop, funk, raw drum'n'bass, and even acoustic tracks.

With several mic layers to blend, the sound of the kit can go from snappy and clean to gritty and lofi with the twist of a knob. There are 4 snare variations and two kick variations to keep things interesting.
Fat Stacks features
Multi-sampling: each kit component contains up to 8 velocity layers for expressive detail and dynamics.
Mic layers: 6x individually controllable mic layers: Close mics, Overheads, Room mics, Smash mic, Kick Sub, and Snare-Bottom
Round-robin: natural performance thanks to round-robin hits.
Layouts: Keyboard and eKit/V-Drum optimised mapping layouts provided. The layout is General MIDI (GM) compatible.
Output routing: stereo and multi-channel output versions provided.
Kontakt instrument interface: with instrument volume, mic layer, pan and input device controls.
Sensitivity control: increase the sensitivity of the kit for more intricate and subtle performances or leave it set to full dynamic range for heavier tracks.
Presets: for quickly dialing up different sounds.
eKit mode switch to 'eKit' mode when using a Roland V-Drum kit, or leave set to 'Keyboard mode' for direct MIDI sequencing.
Trigger maps: for sound replacement – kick, snare, toms – each with separated mic layers.
The Fat Stacks kit is available to purchase for $19 USD. Fat Stacks is compatible with Kontakt full version (v3+), and mappings for Slate Digital Trigger are also provided.
More information: Analogue Drums