British boutique electronic instruments innovator Analogue Solutions has announced a forthcoming fourth run of Colossus, its supersized synth that trips back to the future of analog.
With a design that takes inspiration from the 1970's EMS Synthi 100, Colossus is more than a powerful analog 'workstation' featuring non-EMS, Analogue Solutions' designed circuits chosen from its large back catalog synths such as Polymath, Telemark and Vostok.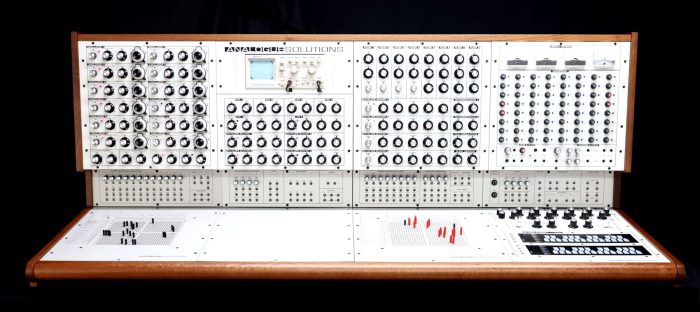 All the voice and modulation circuits of Colussus are 100% analog. The synth doesn't have MIDI or USB, though you can use a MIDI converter box should you need that facility.
This wasn't designed to be the solution to your modern digital studio but rather a serious analogue power house of sound. There are of course digital elements to the sequencer control – that is unavoidable – even classic analogue sequencers like the ARP sequencer using digital logic chips. In fact the Synthi 100 features a digital sequencer.

This synth is purely for those who want it just as it was in the 1970s – but new with parts still in production.

Colossus is large scale, featuring large knobs that control metal shaft potentiometers. VCOs have multi-turn verniers. The two enormous pin matrix panels dominate the horizontal panels – these are incredibly expensive Swiss made broadcast quality signal routers – 1 for CV and 1 for Audio.

There are two spring reverbs, touch keyboards, step sequencers, moving coil meters, joysticks and so much more. An immense expanse of jack sockets for additional patching within or without the system.
The fourth Colossus run is in production and available to order for purchase priced at £25,000 GBP (excluding tax and delivery). The wait time is around two to four weeks after Analogue Solutions' receipt of a £6,500 GBP deposit (excluding tax and delivery).
More information: Analogue Solutions