Analogue Solutions has announced a second batch of its next-generation Generator step sequencer, a highly versatile multi channel analog step sequencer that provides a fun and intuitive, yet powerful way to create rhythms and melodies with your modular and CV synths.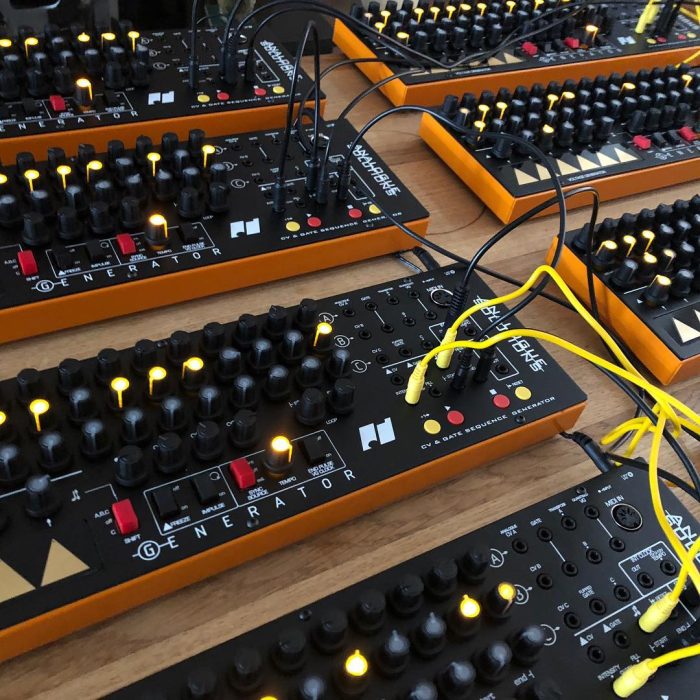 Generator is a very compact and high quality step sequencer. It's USP is that it is a playable sequencer. You don't just set up a sequence and leave it looping.

The UI is designed in such a way as to make it easy, fun and intuitive to alter the rhythm and to get alternative sequences playing using the real time touch pads.
Generator features
Analogue Sequencer — Three channels of 16 steps, each providing true analogue CV outputs. These run in parallel. Total pattern length can be changed, or the pattern reset.
Gate Outs — Gate output, with an inverted 'flipped' output (positive voltage, but the 'state' is inverted. So this output does the opposite of the main Gate output).
Voltage Generator — Six 'note' interval voltage generator keyboard. Use to transpose the sequence, reset, start and other things too! Can be clocked by the End Pulse creating a mini-sequence that changes once per bar. Can be used independently as a mini keyboard!
Voltage Controlled Internal Clock — The internal clock is analogue using an analogue LFO. Speed can be changed using CV. The sequencer can also be clocked using a MIDI note or even using an external clock signal from a modular.
Versatile Control — Many controls, switches, and jacks to allow you to alter the way the sequencer steps or behaves.
Intuitive Real Time Gate Control — Or, IReTiGaC (patent pending). Alter the rhythm in real time using just 4 rotary knobs.
Jack Sockets — So many jacks sockets!
Compact — Slim form factor.
Generator is available to purchase priced at £629 GBP/$749 USD/679 EUR. Prices incl. VAT where applicable.
More information: Analogue Solutions