Plugin Boutique has launched a Black Friday sale on Antares, with discounts of up to 50% off regular on two of its audio plugins.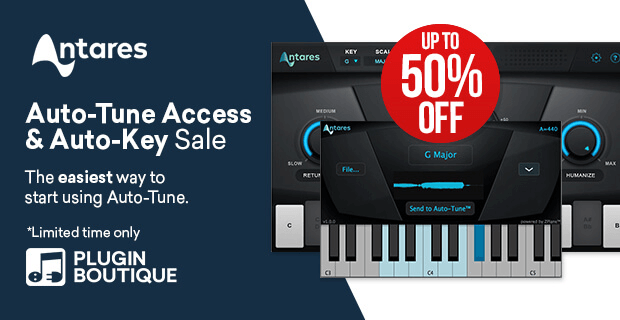 Auto-Tune Access is the easiest and most affordable way to start using Auto-Tune. It delivers the core Auto-Tune features with a simple and intuitive interface.
Its light CPU footprint and professional quality processing also make it a convenient option for more advanced users working with larger projects.

Three-position Retune Speed and Humanize knobs allow for a variety of tuning applications, from subtle and natural-sounding pitch correction to the most extreme Auto-Tune Effect.

Low latency processing lets you perform through Auto-Tune Access in real time on stage or in the studio, without worrying about distracting delay.
Compatibility with the Auto-Key automatic key and scale detection plugin (sold separately) means never having to worry about finding the key of your music before tuning.
Prices start from only £23.95 GBP / $29 USD during the sale. The offer expires December 3rd, 2019.
More information: Antares