Antelope Audio has introduced the Zen Tour Synergy Core portable 14×18 analog and digital I/O audio interface with Thunderbolt 3 and USB 2.0 connectivity.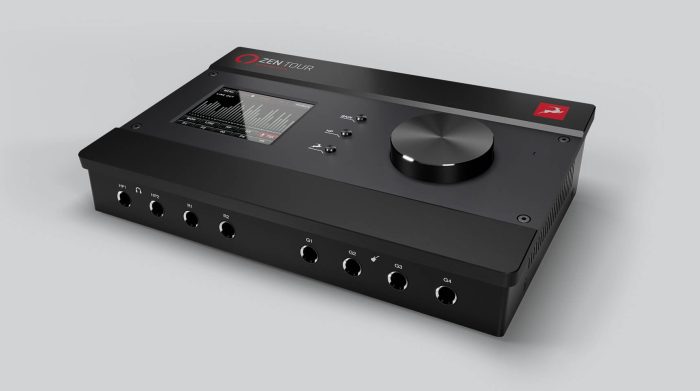 Antelope Audio Synergy Core interfaces employ ARM DSP + FPGA chips in custom configurations to process tens of input/output audio streams and hundreds of low-latency studio effects without burdening your computer. With 4x DSP + 2x FPGA processors, Zen Tour Synergy Core achieves a new standard for real-time audio effects in its category.
Zen Tour Synergy Core brings the following upgrades from the original Zen Tour:
4x DSP + 2x FPGA Synergy Core low-latency effects and audio engine processors.
Improved AD/DA conversion – up to 130dB DNR, on par with Orion Studio Synergy Core.
2x increase in channel count (32 channels at sample rates up to 192kHz).
Thunderbolt™ 3 & USB 2.0 cross-platform connectivity for Mac / Windows.
Support for new Synergy Core-exclusive effects like Auto-Tune Synergy, Opto-2A, MES-432C, Comp-4K-Bus and others.
8 DC-coupled line outputs for CV applications like controlling modular synthesizers.
Discrete ultra – linear microphone preamps.
Enhanced thermal performance.
Zen Tour Synergy Core comes with 36 Synergy Core FX included (2 preamps, 4 equalizers, 5 compressors, 22 guitar amps & cabs, 2 utility fx, 1 reverb). It will be shipping in Q1 2020 at a projected price of 1,995 USD/EUR. It is available to pre-order now.
Visitors of the NAMM 2020 Show are welcome to experience Zen Tour Synergy Core at Antelope Audio's Booth 15912, January 16-19, Anaheim, CA.
More information: Antelope Audio