Antelope Audio has announced that it is taking preorders for its new Orion Studio Synergy Core audio interface.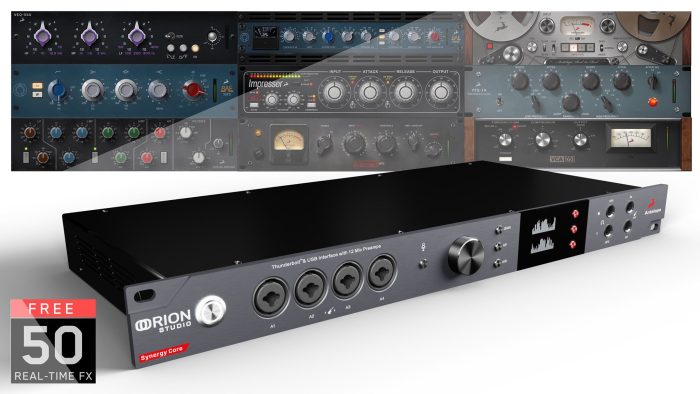 The new Orion Studio Synergy Core packs 2 FPGA and 6 DSP processors, 130 dB Dynamic Range on the monitor outputs, DC-coupled I/O for CV control, Direct In function that hard-bypasses the mic pres, 12 mic preamps based on the ultra-linear Discrete MP standalone preamplifier and much more.
The new Orion Studio brings our recently pioneered Synergy Core FX processing platform to its next stage of evolution. With two proprietary Field Programmable Gate Aray (FPGA) chips and a whopping six ARM-based DSP processors on board, the sheer computing power contained in this interface is astounding! Leave CPU upgrades aside and let Synergy Core do the number-crunching.

Adding further value to your investment, the Оrion Studio Synergy Core includes a compelling library of 50 real-time studio effects, meticulously modelled after their hardware originals. It's all happening inside your audio interface with the lowest latency possible thanks to FPGA's massive parallel computing capabilities, DSP processing, and fast Thunderbolt™ connectivity. The library can be expanded to include any effects you choose from our web store.
Orion Studio Synergy Core features
Synergy Core FX free up CPU to improve system stability, letting you reduce buffer size to record & monitor with sub-millisecond latency.
2x FPGA units handle all audio mixing, dynamics processing, equalization and reverb with effects modeling legendary studio gear.
6x ARM-based DSPs bring a wider variety of creative effects to an efficient, low-latency platform.
No latency stacking when chaining multiple effects.
The Orion Studio Synergy Core is available to preorder for $2,795 USD.
More information: Antelope Audio