Antelope Audio has announced that its Orion32 HD audio interface is now shipping.
Announced at the NAMM 2017 convention and priced at $3,495 USD, the Orion32 HD is the third member of the Orion32 family and features full Pro Tools HD and Native compatibility — along with 64 channels of pristine audio quality in 192kHz via HDX or USB3 with real time monitoring.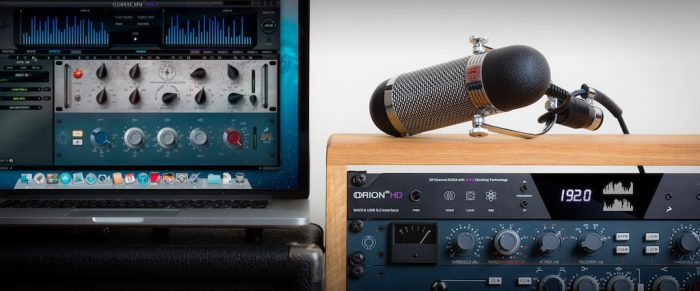 Powered by Antelope's legendary 64-bit Acoustically Focused Clocking (AFC) jitter-management technology, Orion32 HD supports multiple monitor mixes and is compatible with any DAW on the market. Further, both HD and USB3 ports are available for simultaneous use, enabling more than one DAW platform to be used and accessed at once.

Antelope's seamless integration of its powerful and widely acclaimed Field Gate Array (FPGA) based DSP processing engine means the unit is able to handle tracking and mixing through custom modeled vintage effects in real time. The unit is constructed in a svelte black housing, taking up just a single rack space with and does not require a fan or machine room.
Orion32 HD features
64 channels I/O – Simultaneous streaming of 24-bit, 192 kHz audio via HDX or USB 3.0 and additional connectivity on MADI, ADAT, S/PDIF, 8x DB25.
Supreme clocking – Powered by Antelope's 64-BIT Clocking Technology with 2 Word Clock or Loopsync Outs, Word Clock or LoopSync & Antelope 10M/10MX Atomic Clock Inputs.
Powerful FPGA – Custom FPGA for authentic modeling of vintage gear, maintaining multiple mixers with real-time effects processing and measuring only 2 samples of inaudible latency.
Mastering grade monitor outs – High Monitoring DA included using chips from our popular Pure2 Mastering Converter.
Software control – Routing, mixing, real-time effects processing via OS X & Windows compatible app.
Quiet operation – Housed in an efficient "green" design with no fans inside, means no need for expensive machine rooms or iso racks.
The Orion32 HD is shipping now and priced at $3,495 USD.
More information: Antelope Audio / Orion32 HD