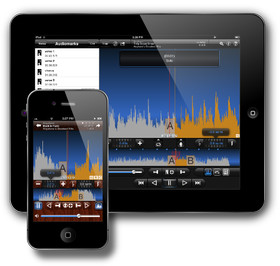 Anystone Technologies has updated the Anytune music slow downer practice app to version 3.5.
Slow down music, choose the perfect pitch, and learn to play by ear. Slow Downer Music Practice Perfected. Anytune Pro+ is a universal app for iPhone, iPod Touch and iPad.
Changes in Anytune v3.5
ReTune – Associate a tempo, pitch or delay time with marks.
Built-in Recording.
Export a tuned track via Email or Open-In.
Search for Tunes, Songs, Playlists, Artists and Albums.
Change sort order of Tunes list: Manual, Alphabetical, Date Imported, Date Last Played.
Delayed playback start.
User defined preset names for audio marks.
Autoplay option on mark selection.
Ability to shift loop from A->B or B->A and 1/2 or x2 the size of the loop.
Set default tempo, pitch and gain for newly imported songs.
Enhanced help menu.
Improved Facebook and Twitter sharing options.
Loop once option.
Graphical UI enhancements.
As of the launch of Anytune 3.5 the app is available as Anytune (free), and Anytune Pro+ (previously Anytune Pro HQ), priced at $16.99 USD.
More information: Anytune