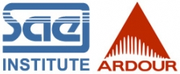 Ardour, the open source digital audio workstation, is now available in a native version for Intel Mac, Ardour 2.7 SAE Edition.
In April 2007, SAE Institute agreed to become a corporate sponsor for the Ardour project. Focus of the collaboration between Paul Davis, creator and developer of Ardour, and Armand Klenk, Head Instructor Audio at SAE Munich, was the development of an OS X version of the Linux-based software. A special student version, created in a parallel effort, will now make the open-source digital audio workstation even more accessible to beginners. With contributions from other Ardour developers, particularly Nick Mainsbridge and assistance from the GTK/OSX team, we are pleased to announce the first public release of the Ardour/SAE version.
The SAE version has a slimmed down user interface, alternate keybindings and a different menu layout than "Ardour Classic". It also has a few limitations designed to make things simpler for people just starting to use a DAW. However, both versions are completely compatible with each other, and sessions created with one version (on any platform) can be used with the other.
Visit the Ardour website for more information.