Korg has released the KORG Collection, an update to the Korg Legacy Collection. The bundle now includes an emulation of the ARP Odyssey duophonic synthesizer.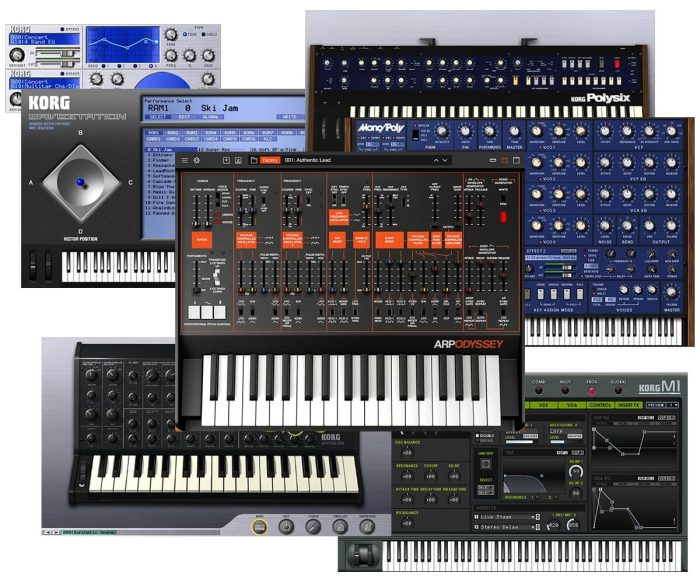 The updated bundle also includes new features such as polyphonic compatibility and a rich, high-quality effects section.
Released in 2004, the KORG Legacy Collection was a pioneer of software synthesizers. Featuring a sound produced by authentic simulation of the analog and digital circuits of the legendary KORG synthesizers, the Legacy Collection has remained a best seller to this day.

Now, we are proud to announce the release of the updated KORG Collection featuring the addition of the ARP ODYSSEY. You can pursue in software the extreme feeling and sounds of this unique analog hardware synth, the ARP ODYSSEY re-issued by KORG. The updated Collection is equipped with new features especially suited to software, such as polyphonic compatibility and a rich, high-quality effects section.

Some features widely requested by users will be added to the KORG Collection in future updates. We plan to support AAX format and refine the user interface on a large-scale among other improvements but until then we hope you love all the new features so far and enjoy making music with the KORG Collection of synthesizers offered by KORG.
KORG Collection for Windows and Mac (VST/AU/Standalone) is on sale at 50% off, priced at $149 USD. KORG Legacy Collection can upgrade to the KORG Collection – Special Bundle (incl. ARP Odyssey) at a special price of US $49.99 USD by using a coupon code. Plugins in the bundle are also sold separately starting at $9.99 USD.
The sale ends January 31st, 2018.
More information: Korg / KORG Collection