Plugin Boutique has launched the Art of Sampling Bundle, an exclusive limited time collection of sampling tools, high-quality samples and professional video guides to help you develop the skills that are paramount to becoming an expert in sampling.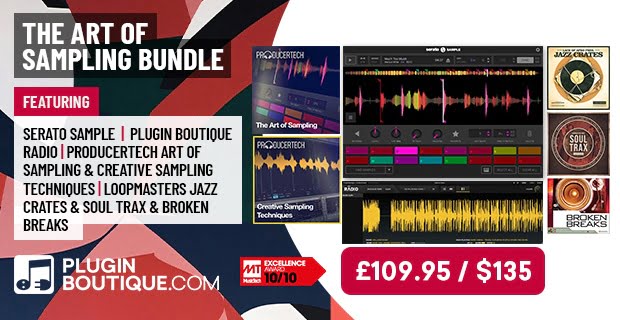 The bundle includes Serato's Sample, Plugin Boutique Radio, two Producertech tutorial courses and three sample packs from Loopmasters.
First up is your key sampling tool, Sample by Serato. This intuitive plugin allows you to import any audio file and instantaneously split it into separate samples for you to chop, key shift and time-stretch in your music. Sample integrates Serato's iconic Pitch 'n Time algorithm to give you the best quality time-stretching possible.

Secondly, we have Plugin Boutique Radio. This handy tool streams global radio stations directly to your DAW, giving you access to a world of new, unique sounds to sample in your music.

Thirdly, we have included two in-depth Producertech video guides to introduce you to the world of sampling. The Art of Sampling covers all of the fundamental aspects of sampling across 90 minutes of content. After establishing your key sampling skills, Producertech's Creative Sampling Techniques takes them one step further and applies them to a real-world sampling scenario. This course walks you through the process of using sampling methodology to create a Glitch Electronica track within Ableton Live, where you can expect to find advanced inspiration, tips and techniques.

Finally, we have also bundled three top-quality Loopmasters sample packs, providing you with a wealth of samples, loops and kits for your music. VIBES Vol 1 – Soul Trax brings the soul flavour with 2.19 GB of soulful samples, Jazz Crates provides 1.19 GB of jazz samples performed by The Jazz Defenders and Broken Breaks completes the set with a heavy collection of current Breakbeats to chop, screw and sample.

This collection of products will allow you to apply, develop and hone your new found sampling skills, helping you to truly master the art of sampling.
The Art of Sampling Bundle is available for £109.95 GBP / $135 USD for a limited time only.
More information: Plugin Boutique