Art Vista has announced the release of Virtual Grand Piano 3, a piano instrument library for Native Instruments Kontakt.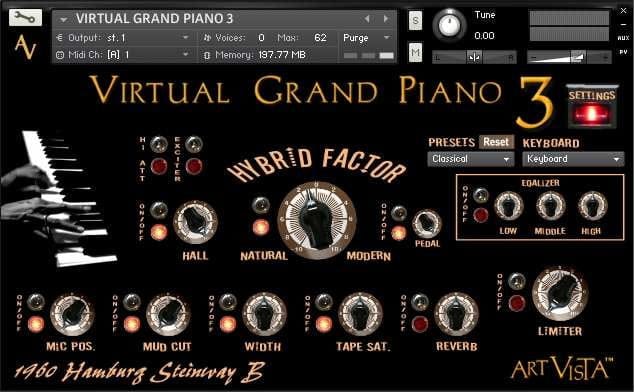 VGP3 introduces a hybrid tonal component as a way of altering the character of the tone. There is also a new "reset" function that allows you to modify any preset and easily return to the original preset settings at any time. A new limiter provides yet another way to achieve a vintage sound or just bring the piano level up in the mix. Also, the interface and its functionality have been re-designed and re-programmed to be more intuitive when tweaking the sound. VGP3 also includes a new preset, used in the production of the CD "Cemetery Men." Art Vista Virtual Grand Piano 3 is based on recordings of a 1960 Hamburg Steinway Model "B" and offers stunningly realistic piano presets for every possible recording genre. It includes emulations of famous piano recordings from the 1950's through today by artists such as Aretha Franklin, Elton John, Norah Jones, Diana Krall, Donny Hathaway, Chet Baker, Jan Johansson, Ray Charles, John Lewis, Bobby Timmons, Billy Preston, Keith Jarrett, Jackson Browne, Leon Russell, John Legend, Arthur Rubinstein, and Bill Evans.

Art Vista Virtual Grand Piano 3 responds exactly like a real piano with perfectly authentic touch from every midi-keyboard and includes a large number of calibrated keyboard-specific presets, allowing you to choose your controller keyboard from a list. This ensures a 100% accurate keyboard touch, no matter which keyboard controller is used to play this virtual piano, and consistency in response when moving between keyboards. In addition, it offers complete control of all recording parameters. A unique feature that adds to the realism is the "intelligent" sustain pedal sound, which musically interprets and adjusts to your playing.
The sample library is available for purchase for $99 USD. Owners of Virtual Grand Piano 2 can upgrade to version 3 in Kontakt Player 5 format for $49 USD. New customers a full version of Kontakt 5.
More information: Art Vista / Virtual Grand Piano 3