Artiphon has announced Orba, a handheld musical instrument available exclusively on Kickstarter.
Orba is a $99 USD portable synthesizer, looper, and MIDI controller that lets anyone make music immediately. Its minimalist design resembles a cross between a gaming controller and half an orange, and its feather-touch sensitivity translates gestures from fingers and hands directly into music.
Orba introduces a new and fun way to make music anywhere, even if you've never played an instrument before.
Easily switch between multiple modes (Drum, Bass, Chord, and Lead) and use Orba's integrated looper to create songs in seconds. Eight touchpads with multi-color LEDs detect a variety of gestures like tapping, sliding, and vibrato, and motion sensors let players wave, tilt, and shake for more effects. Orba can be used as a standalone synth with a built-in speaker and connects wirelessly to mobile devices and computers via Bluetooth MIDI.
The Orba companion app lets users customize their instrument with new sounds, tunings, and patterns. Users can also share the music they create straight to social media and export to other music-making apps. Orba works with iOS, Mac, Windows, and Android, and is compatible with all major recording software including GarageBand, Ableton Live, Logic Pro X, Pro Tools, and FL Studio.
Orba features
Eight capacitive-sensing pads for feather-touch control.
Accelerometer and gyroscope capture a range of gestures.
Center menu button accesses four presets, the looper, and other functions.
Onboard synthesizer and built-in speaker offer an immediate playing experience.
Connect to the cross-platform Orba app for more sounds, songs, and settings.
Use MIDI over Bluetooth or USB to plug into any of your favorite music apps.
Use the ⅛" (3.5mm) output to listen on headphones, speakers, and amps.
Multicolor LEDs respond to the way you play.
Embedded haptics offer vibration feedback.
USB Rechargeable battery.
Kickstarter backers can order the Orba for $89 USD with an expected delivery in April 2020. Other perks are available as well during the campaign, which runs until January 12th, 2020.
Artiphon has also announced a Black Friday / Cyber Monday sale on the INSTRUMENT 1, a new kind of digital instrument that adapts to the way you play.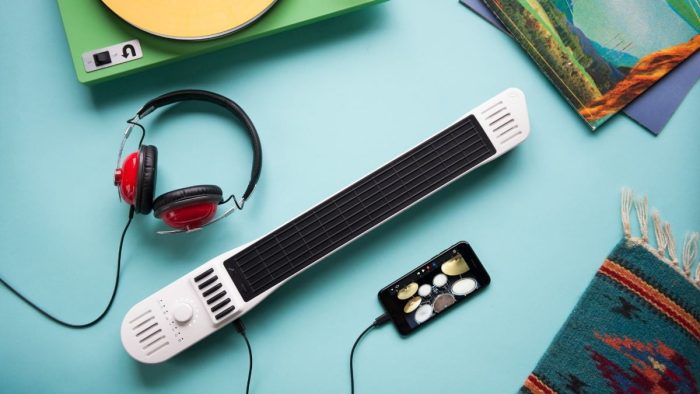 It's the first MIDI controller that lets you strum, slide, tap, and drum any sound on a single interface.

With built-in speakers, accelerometer, all-day battery life, direct iOS connection, and MIDI MPE compatibility, the INSTRUMENT 1 has opened a new category of production, performance, and play. And of course, it makes a great gift.
Promotional pricing will be available November 27th through December 3rd. Use coupon code MOREMUSIC2019 at the checkout to save $50 USD off at checkout.
More information: Artiphon