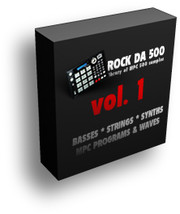 Artur Czyżewski (aka Ukaef) has released Rock da 500, a collection of programs and sounds designed for Akai's MPC500.
"I`m proud to present You my library of AKAI MPC 500 programs and samples. I hope that sounds will bring You a lot of fun."
Rock Da 500 vol1 features
50 Programs (Akai PGM and AKP format): 10 bass programs, 1 flute program, 5 "mixed" programs, 4 long pads programs, 4 synthetic saxophone programs, 2 synthetic strings programs, 23 synths programs, 1 synthetic trombone program.
5 Samples packs: Percs (maracas, claves, bottles and pepper), 10 vinyl cuts, 19 short scratches, 29 one-note synths sounds, 22 one-note bass sounds.
Small Windows application, RD500 modifier, which allows you to modify PGM programs to fit your needs.
All sounds are in 16-bit, 44,1 kHz waves.
Rock da 500 is available to download as a free download. Donations are appreciated.
Visit Rock da 500 for more information.