Arturia has announce the launch of its newest software instrument OB-Xa V, a recreation of Oberheim's legendary OB-Xa analog synthesizer.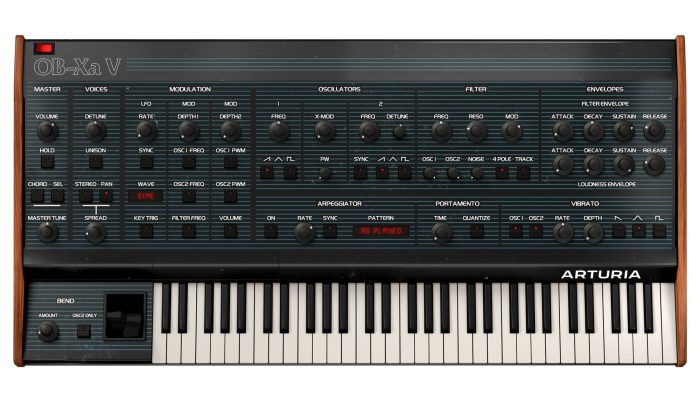 OB-Xa made its mark on music history thanks to its distinctive electronic design resulting in a thick, impressive sound. Applying their expert sound engineering to recreating and updating an iconic synth, Arturia now offer an authentic software with soundscapes previously unexplored.
Ideal for innovative musicians, synth programmers, and keyboardists who appreciate a fat, aggressive sound. Its versatility creates gratifying results in many distinct styles of music production, making it a valuable asset for producers and creators across multiple genres.

OB-Xa made music history on albums released by Prince, Billy Idol, Chaka Khan, and Bon Jovi, and is most recognizable for appearing on Van Halen's biggest hit, 'Jump'. Contemporary musicians by the likes of Flume, Chrome Sparks, Calvin Harris, and Venetian Snares have also incorporated its energetic potential to enter a new musical dimension. OB-Xa V is here to offer the iconic sound in all its glory while opening up the instrument to more complex and satisfying creations.

OB-Xa V by Arturia is the most ambitious recreation of OB-Xa on the market so far. Its intuitive interface makes utilizing its complex inner workings a joy.
OB-Xa V features
Stereo spread with left/right offsets on oscillator, filter, and LFO parameters.
Modulation matrix.
Arpeggiator.
More flexibility on the LFO for easy modulation.
Up to 16 voice polyphony.
Innovative voice detuning.
On-board effects: delay, chorus, reverb, phaser, flanger, compressor, overdrive, multimode filter, and bitcrusher.
Oscillators' continuous X-Mod modulation (cross modulation).
Oscillators' (1, 2, and noise) mix in filter section for rich sound sources.
4 Function Generators.
Sleek design for great visual experience of your sound.
Seamless preset selection with the visual browser.
Over 400 presets.
Individual voice panning.
Extension panel includes Mod Matrix, four Function Generators, and 3 busses with 9 effects each.
The OB-Xa V is available at the Arturia online shop and from distributor Plugin Boutique for the intro price of 149 EUR/USD through June 9th, 2020 (regular 199 USD/EUR). The V Collection 7 including OB-Xa V is on sale for 299 USD/EUR during the promotion.