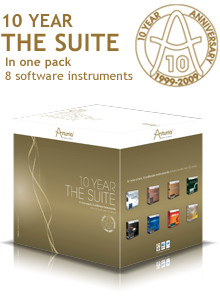 Arturia has announced the 10 Year Suite, a collector edition box featuring 8 software instruments.
The 10 Year Suite brings you 8 software instruments Arturia has built over 10 years. This collector edition is the complete solution when high quality, authentic and modern sounds are demanded. The luxury box contains the highly awarded Minimoog V, Moog Modular V, CS-80V, ARP2600 V, Jupiter-8V , Prophet V and Prophet VS. Also included the innovative Brass and the powerful Analog Factory.

With this collection of instruments you will be able to create virtually every imaginable synthesizer sound with the true characteristics of their very rare and expensive predecessors. You will also add brass to your set with unchallenged expressivity and realism. The 10 Year Suite is available at an irresistible price for Arturia's ten years anniversary.
10 Year Suite features
Each software instrument in THE 10 YEAR SUITE can be used as a stand-alone application or as a plug-in within your sequencer.
Set to control with your external MIDI keyboard in just a few clicks.
With the ability to work 32 bits/96kHz, you can now make music on your computer the way you would with a hardware synthesizer.
For each of the available software instruments delivered in THE 10 YEAR SUITE you get high quality and innovative sounding presets.
Classic synthesizers (Minimoog, Moog Modular, CS-80, ARP 2600, Prophet 5, Prophet VS, Jupiter-8)

Thanks to TAE®, Arturia's proprietary technology, the sound coming from the different synthesizer recreations is as pure and phat as the original.
Polyphony goes from 2 to 32 voices, with unison possibilities.

Classic synthesizers (Minimoog, Moog Modular, CS-80, ARP 2600, Prophet 5, Prophet VS, Jupiter-8), all the features of the original synths have been recreated but more was added to take benefit of modern possibilities

Modulation matrices.
Step sequencers and arpeggiators.
Innovative modulation sources.
Additional effects.
New filter types.
Keyboard split and layer.
Smart preset management.

BRASS

Three instruments available : Trumpet, Saxophone and Trombone.
8 parameters to control the instrument in real time: Attack, Pressure, Pitch, Timbre, Noise amount, Vibrato, Vibrato speed, Mute (for trumpet or trombone).
Spatialization.
More than 500 pre-written riff presets in different musical styles (jazz, pop, reggae, etc.).

Analog Factory

3500 sounds that have defined the sonic palette of modern music.
All presets carefully selected from the Arturia Classic Synths.
Smart preset manager.
Straight forward editing of each sound.
8 snapshot buttons (quickly store up to 8 snapshots for sound comparison, variations, etc.).
The limited edition 10 Year Suite is available for Windows and Mac (VST/AU/RTAS) for $699 USD / 549 EUR.
Visit Arturia for more information.