Arturia has announced the the latest edition of V Collection, its flagship anthology of reimagined historic synths and keyboards.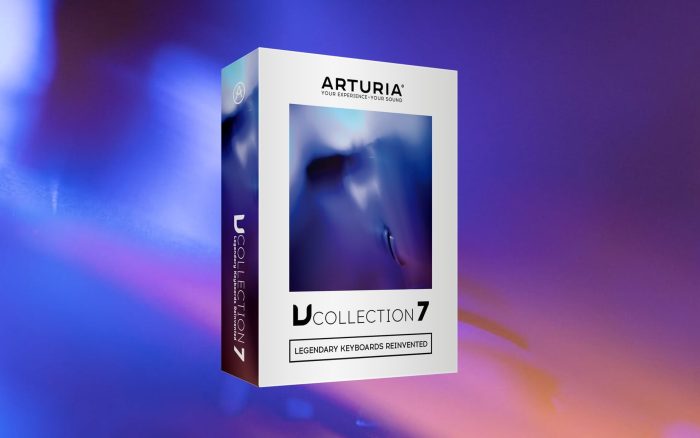 V Collection 7 comes with 24 software instruments and thousands of preset sounds.
In V Collection 7, Arturia have used cutting-edge modelling techniques to create the most accurate software versions of dozens of time-honored instruments. Their exclusive True Analog Emulation® (TAE) and advanced physical modelling put these legendary instruments at your fingertips as software. Over 100 years of music history are now yours to explore, and use to shape the sound of the future.
V Collection 7 comes with three new instruments.
Mellotron V
The original instrument redefined what keyboard players could do, unlocking the doors to orchestral and choral sounds at the touch of a key.
Arturia's reinvented versions not only features all original Mellotron tapes, but also lets you import and play your own samples with authentic tape emulation.
Synthi V
The quirky British "silver machine" that put a new spin on modular synthesis, reborn in software with exciting new tricks up its sleeve.
Advanced component modelling let Arturia model even its wild, unpredictable nature, with advanced modulation and powerful effects added to the mix.
CZ V
The budget synth that became a legend in its own right. The instrument that brought the digital synth revolution to the masses is now at your command.
Easy to program phase distortion synthesis with custom editor, huge modulation potential and awesome effects.
On top of the new instruments, Arturia has also revamped and reworked its classics, and given you hundreds of new presets to explore.
Analog Lab 4 — Personalize your own perfect keyboard, with thousands of amazing presets, perfect integration, effects, and a built-in live mode. Your go-to choice for inspiration.
B3 V2 — The recreation of Hammond's legendary organ has received a total sound engine overhaul, making it the most authentic, vibrant electric organ virtual instrument ever.
Synthopedia — Over 800 brand new, modern sounds created for legacy V Collection instruments. The hottest synths and chart-topping keys are yours to explore.
Arturia has created a series of promotional videos and tutorials, and each software instrument also features an in-app tutorial mode.
To celebrate its release, V Collection is available for the intro price of $399 USD/399 EUR until June 10th, 2019 (regular 499 USD/EUR). Previous Arturia customers can login to their Arturia account to check for a personal offer.
V Collection 7 is now also available on the Rent-to-Own platform at Splice. You can start using V Collection without restrictions immediately and make monthly payments of $24.99 USD until the software is paid off. You can pause or cancel your plan at any time.
More information: Arturia