Arturia has introduced VOX Continental-V, a virtual instrument emulation of the vintage Vox Continental 300 organ.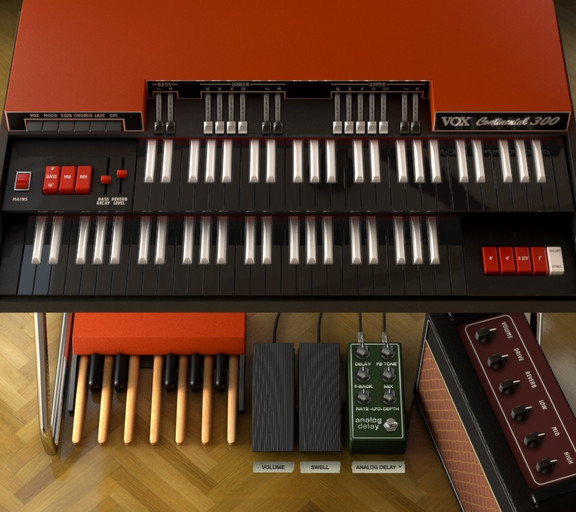 As a high-end software recreation of the Sixties-vintage Vox Continental 300 transistor-based combo organ, VOX Continental-V is the latest addition to Arturia's acclaimed Analog Classics lineup where it sits alongside an authentic recreation of another archetypal Sixties staple, Wurlitzer-V (based on the classic 'Wurly' electric piano).

Like the transcontinental history of the original Vox Continental, the road to creating VOX Continental-V was a long and winding affair. Arturia started its latest software developmental journey in the company of a rare Vox Continental 300 dual-manual model, capturing every nuance of the original right down to key contact timing and background noises — no elbows needed! Next, Arturia acquired a rare Jennings J70 — developer Tom Jennings' Vox organ forerunner — and added a J70 Mode to the VOX Continental-V voice engine. End users have effectively ended up with two ultra-rare organs for the price of one as a result — with more tones to play with, which musically is a good thing to have!

The end result is surely the most authentic dual-manual Vox Continental 300 emulation that money can buy. Notable VOX Continental-V features include upper manual, lower manual, and bass pedal sections; multiple output effects processors; and independent channels per manual. Moreover, Expanded Mode adds a full compliment of drawbars for each harmonic; a new waveform drawbar on each section; several popular effects; Leslie™ and guitar amp simulator outputs; and an expanded percussion section. Similarly, Services Mode allows for individual tuning of each pitch — just like an original Vox; alterable key contact timing (to simulate older key contacts); and authentic background noise bleed control.
VOX Continental-V for Windows and Mac (VST/AU/AAX/Standalone) will be available in late April, priced at 119 EUR / $129 USD.
More information: Arturia