Arturia has announced the latest in the line of its acclaimed Effects You'll Actually Use series.
The 3 delays modeled in this bundle cover the most popular, and best sounding varieties of the effect: vintage tape delay, analog "bucket brigade" echo, and a cutting edge digital design.
As with its other award-winning software effects, 3 Delays You'll Actually Use has its promise set out in its name. Musicians and producers will be able to stop auditioning dozens of different effects, trying to find the right sound, and enjoy legendary tone and awesome features in one simple bundle.
Covering all bases, Arturia has modeled 2 famous delay effects, and developed its own next-gen modern delay. Saturated tape tones, lo-fi BBD feedback, and synth-style modulating digital delay. It's all here.
Using its exclusive TAE and Phi modelling technologies – the same know-how behind their multi-award winning V Collection series of synths and keyboards – Arturia has revamped these 2 legendary effects, and created an exciting, 21st century delay.
Delay TAPE-201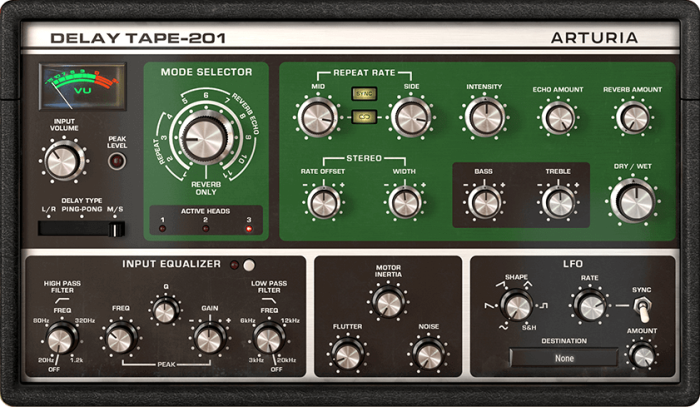 Modeled on the famous 70s "space" delay loved by guitarists and studios for half a century. This iconic delay has been reborn in your DAW, with perfect tape emulation and saturation, and powerful new features.
Delay MEMORY-BRIGADE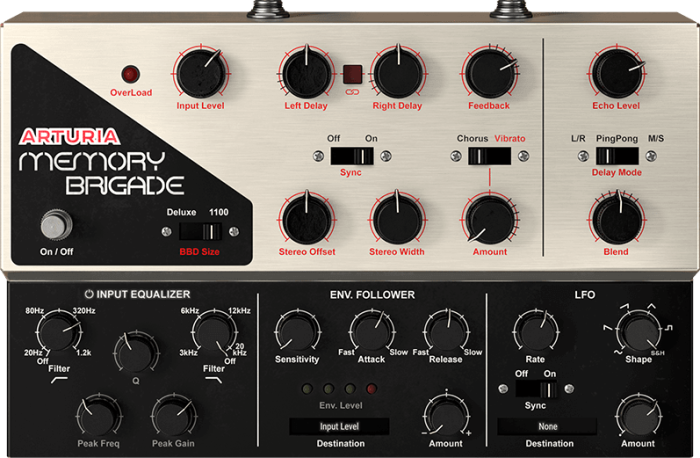 The legendary "memory" BBD guitar pedal has been reimagined as a plug-in for your DAW. Lo-fi, filtered, dark tone with a huge scope for feedback. This delay will give you "the edge"!
Delay ETERNITY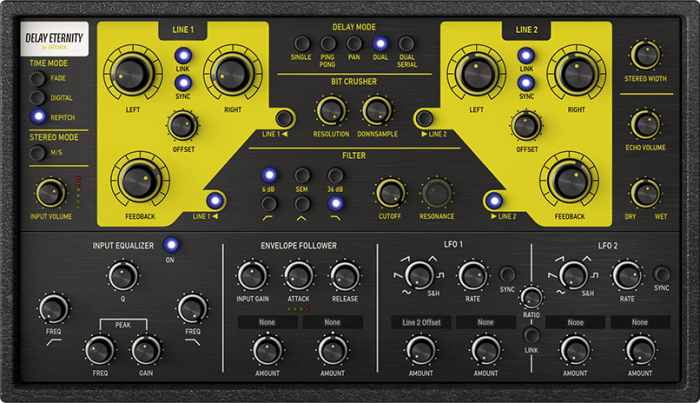 A cutting-edge modern delay packed with modulation possibilities, LFOs, twin delay lines, and signal-smashing effects within the feedback loop. A totally original Arturia plug-in.
All of these effects are free to try, and are on a special launch promotion priced at $99 USD/99 EUR until September 9th, 2019. The 3 Delays You'll Actually Use will retail for 199 USD/EUR.
Each delay plugin is also available separately for 69 USD/EUR each during the promotion (regular 99 USD/EUR), and a bundle of 12 Effects (including 3 Delays, 3 Filters, 3 Preamps and Compressors Collection) is on sale for only 249 USD/EUR.
Existing customers who own Arturia software or hardware can get additional discounts by logging into the Arturia website to see your their exclusive deal.
More information: Arturia