Arturia has announced availability of its new FX Collection, featuring all 15 plugins from its "You'll Actually Use" series.
The Arturia FX Collection promises to offer professionals and beginners alike the highest sound quality and best features on the market.
Following in the footsteps of the critically-acclaimed V Collection, Arturia's new FX Collection offers all producers, mix engineers, and music-makers the chance to enhance their tracks with time-honored studio and stage legends that shaped the sound of the music industry, enhanced with powerful modern features.

Not only that, but Arturia have also developed some unique, original effects which offer abilities that would be simply impossible to achieve in vintage hardware.
The collection includes the previously released compressors, delays, preamps and filters, and three new reverb effects.
Previously available for free, the Rev PLATE-140 smooth plate reverb is joined by a futuristic digital reverb and a snappy physical reverb.
Rev SPRING-636 offers the sound of a vibrant, slappy, squelchy spring reverb, the Grampian 636.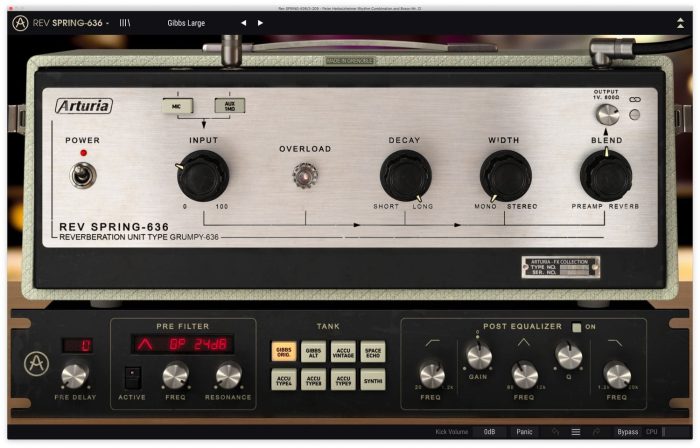 For the core unit, we based our software reverb on the legendary Grampian 636 plate reverb. The original 636 was the go-to reverb of The Who's Pete Townshend, of legendary dub producer Lee Scratch Perry, and a cornerstone of reggae and ska music.

The great thing about spring reverbs, and one of the reasons they have been so popular for the last 90 years, is that every one of them seems to have a unique tonal character. Some are bright, some zap, some zing, and poing, and some boing, but they all have their uses. This is one of the reasons we've included many different "spring tank" models in Rev SPRING-636: you can find the one that suits your music best.
Rev SPRING-636 features
Virtual recreation of famed classic Grampian spring reverb.
Original electronic path accurately modeled, using Arturia's state-of-the-art TAE® analog modeling.
2 preamp types with their very own sonic color.
8 swappable spring tanks.
Pre-delay.
Multimode pre-filter.
Parametric EQ.
Input-Output gain link switch.
Resizable window.
Integrated tutorials.
Comprehensive set of presets.
The Rev INTENSITY futuristic digital reverb is an original Arturia effect for the 21st century.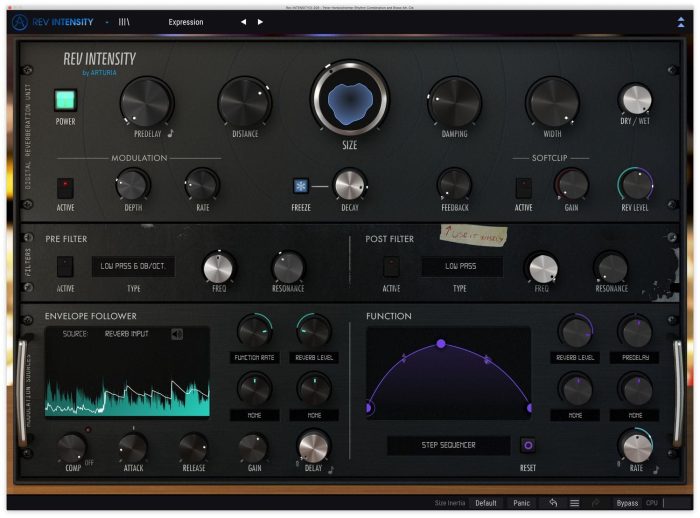 The plugin offers amazing new ways for experimental, progressive music makers to twist and warp their sounds, and redefine what a reverb can be.
Not a copy, not an emulation, not a tribute. Rev INTENSITY is an exciting, original reverb that will change the way you think about this type of audio effect. Having analyzed and recreated the best studio gear ever made for the FX Collection, we took notes and pointers from the classics, combining the best of all things digital into one awesome reverb plugin.

Free from any restrictions, Arturia's developers used cutting-edge algorithmic techniques to create a lush, versatile reverb that sounds fantastic, but is easy on your CPU. We also packed the it with innovative presets that make full use of its advanced feature set, as well as integrated a tutorial into the plugin so you can learn as you go.

If you're ready to get adventurous with your reverb, Rev INTENSITY will blow you away. Pre and post-filtering, integrated lush chorus, reverb freeze, and soft-clipping. Modulate any parameter with an envelope follower and a programmable function. Perfect for sound designers, and any producer looking for quirky, unique effects.
Rev INTENSITY features
Highly programmable and modulable engine with up to 13 destinations.
Multimode pre-filter and post-filter.
Programmable envelope follower with side-chain.
Programmable function generator.
Feedback line & softclip.
Integrated delay modulation.
Freeze feature.
Resizable window.
Integrated tutorials.
Comprehensive set of presets.
The FX Collection is on sale now for the intro price of 299 USD/EUR until March 4th, 2020 (regular 399 USD/EUR). Individual plugins are currently on sale for 49 USD/EUR each during the promotion (regular 99 USD/EUR).
Arturia customers can log in their account to check for personal offers.
More information: Arturia