Plugin Boutique has launched the Vintage Synths Bundle, a limited time bundle deal offering 60% off on the Arturia Mini V and D16 LuSH-101 synthesizer instruments.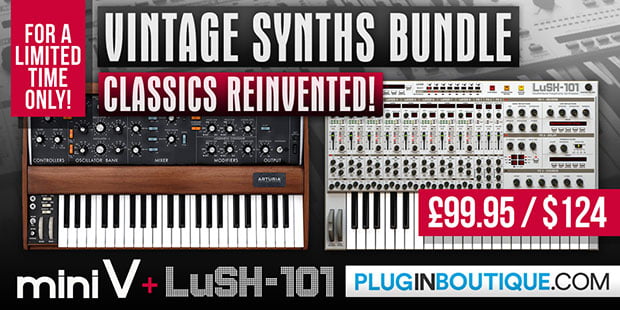 Get the classic sound with emulations of two legendary synths that have defined the sound of electronica. The Mini V & LuSH-101 have both set the standard of what a software emulation of an iconic instrument must be. This bundle brings two of the most sought-after synths straight into your DAW with new exciting features and extensive presets.

Arturia's Mini V soft-synth plugin emulates all the sounds of the original Minimoog synthezier which has been making it's presence known for over 40 years now. For this plugin, Arturia partnered with the Minimoog's creator Bob Moog in order to recreate the iconic look and sound of the 70's synth that has since become the stuff of legend within music folklore. As well as mostly sticking to the original Minimoog's look and sound, Arturia has also added it's own advanced modulator, vocal filter and modulation matrix in order to allow users to not feel limited with the original style of the retro-synth.

D16's LuSH-101 synth plugin allows users access to over 1500 presets all modelled on the Roland SH-101 synthesizer. Presets can be tweaked, and with it's multilayer architecture, the sound design possibilities are virutally limitless. This synth promises to be peferect for any genre whether it be Ambient and Chillout or even Dubstep and Drum & Bass.
The Arturia Mini V & D16 LuSH-101 Vintage Synths Bundle is available exclusively from Plugin Boutique for a limited time only, priced at £99.95 GBP / $124 USD.
Check the Bundles+ page for more exclusive bundles featuring award winning plugins at great savings.
More information: Plugin Boutique / Vintage Synths Bundle