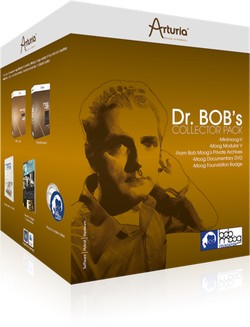 Arturia has announced a 50% discount on Dr. Bob's Collector Pack as a tribute to synthesizer pioneer Dr. Bob Moog who would have been 79 on May 23rd,
Arturia is proud to pay tribute to the father of electronic music by introducing a limited edition pack in collaboration with – and to the aid of – the Bob Moog Foundation.

Dr. Bob's Collector Pack includes two of our award-winning software instruments, the Minimoog-V and the Moog Modular-V at a groundbreaking price.

It also offers a unique glimpse into Bob Moog's life, by including an exclusive book of private archives from the Moog Foundation and a DVD documentary.
The limited edition box is available to purchase for 129 USD/EUR through May 30th, 2013 (regular $299 USD / 249 EUR.
More information: Arturia