Arturia has announced a Arturia V Collection 6 Black Friday deal, offering 50% off the collection of software synthesizer instruments.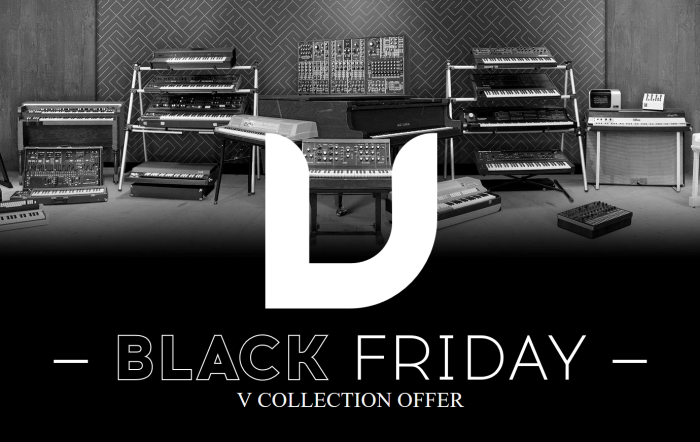 V Collection is Arturia's flagship compendium of 21 software emulations of legendary iconic synths and keyboards using their exclusive TAE® and Phi modelling technologies. Perfectly recreating the sound and features of iconic instruments that shaped the sound of popular music for over a century. Arturia's skilled developers then use their award-winning knowhow to introduce new features impossible with the original hardware. A classic 70s monosynth can be transformed into a polysynth at the touch of a button; the cabinetry of a German classic grand piano can be turned to glass; a complex modulation matrix can add almost infinite possibilities to a seamingly simple instrument. All this, with world-class interfaces, amazing integration, and drop-dead gorgeous GUIs.

Users upgrading to V Collection 6 will enjoy 4 new software titles: Synclavier V, DX7 V, Clavinet V, and Buchla Easel V, as well as many other workflow improvements.

V Collection was recently updated to version 6.2, which included a massive overhaul of Synclavier V, introducing resynthesis and sampling capabilities, refining KeyLab integration, and improving stability to ensure the best experience ever.

All instruments have 4K resolution resizable interfaces, use Arturia's TAE® technology for the best audio results, and are all NKS compatible.
New customers can purchase the V Collection at 50% off regular, priced at 249 EUR. Owners of Arturia hardware and software can crossgrade at discount and legacy V Collection owners will also receive an exclusive upgrade offer.
The Black Friday promotion is available until December 5th, 2018.
More information: Arturia