Splice has announced that Arutria's Analog Lab 4 is now available on its Rent-to-Own platform.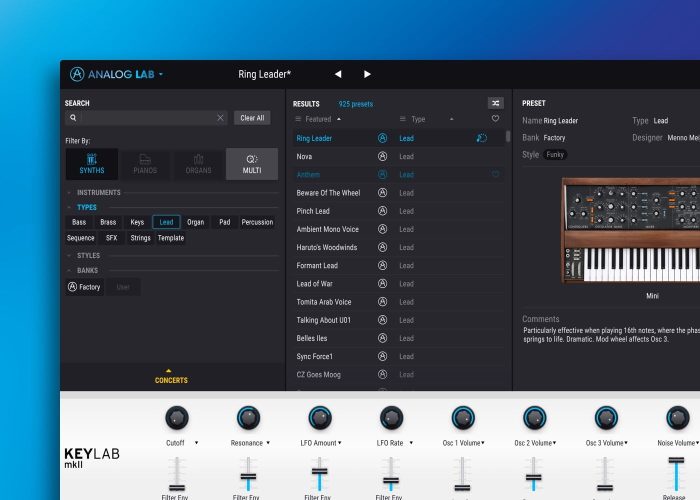 Analog Lab 4 offers intuitive control of classic V Collection sounds.
Analog Lab 4 offers an intuitive interface with easy access to key instrument controls and sounds from over 30 classic keyboards and synths from Arturia's award-winning V Collection. Get inspired by thousands of presets or try layering two different instruments to create your own unique sound.

For live performances, use Concert Mode and Stage View to cue up your keyboard patches and control parameters on the fly with any MIDI controller keyboards.
Analog Lab 4 features
6,500+ sounds and presets from top sound designers.
Presets from V Collection suite (ARP 2600 V, B-3 V, CS-80 V, CZ V, Farfisa V, Jup-8 V, Matrix-12 V, Mellotron V, Mini V, Modular V, Prophet V, Prophet VS, SEM V, Solina V, Stage-73 V, Synclavier V, Synthi V, Piano V, Vox Continental V, Wurli V, Buchla Easel V, Clavinet V, DX7 V and CMI V)
Multi-mode for creating layers and splits, and adding effects.
Full preset browser with presets that are tagged, categorized, and searchable.
10 built-in FXs such as compressor, reverb, delay, distortion, chorus, & more.
Automatic mapping of parameters for Arturia keyboards.
Analog Lab 4 is now available from Rent-to-Own for $9.99 USD/month interest-free until you pay off the retail price, then own it forever.
More information: Splice